Live in a UFO
A Swedish hotel, located in the forest 70 minutes away from the city of Harads gives its guests an outstanding opportunity to stay in a UFO prototype, a bird's nest or a mirror cube built in the crowns of the trees.
The hotel is usually overbooked, so guests should book their accommodation well in advance.
Spend a Night in an Aquarium
If you don't want to climb a tree, you can "dive" underwater and spend a night in an aquarium. Such a hotel on Lake Mälaren, the third largest in Sweden, was designed by artist and sculptor Mikael Genberg.
From the outside, the hotel looks like a small red house in the middle of the lake with a white door and round windows. But inside, there is only one room, which is three meters deep under water.
The room has two beds, a bedside table and rectangular windows, through which you can watch fish swimming by.
Hotel atop a Construction Crane
In Amsterdam, you can stay in a hotel on the port crane of a closed shipyard.
Two elevators lift the hotel guests to the panoramic lounge-zone at a height of 15 meters. Guests can book one of the three spaciously extravagant suites in the upper part of the crane (35-50 meters).
The price for a room starts from 850 US dollars per night.
Inside a Wine Barrel
Another Dutch hotel has adapted wine barrels for tourists. One can live in one of these giant containers for about 200 US dollars per night.
De Vrouwe van Stavoren, Netherlands
Many guests seem to have very positive impressions of the hotel. Some are pleased with its friendly stuff, while others say that it's "cozy and comfortable."
Usefulness of Sewer Pipes
In Austria, architects built a hotel inside incredibly strong sewer pipes. The hotel is located in the town of Ottensheim. You can stay there from May to October.
Every pipe has a rather comfortable interior: a double bed, a bedside table, a lamp, a wool blanket and a sleeping bag made of light cotton. All other amenities — toilets, showers, a mini-bar and café are located outside, on the hotel's territory.
This is a non-commercial project, which is why staying at the hotel for more than three nights is impossible. But the good news is there is no fixed price: You can pay as much as you want.
Inside Out
In Belgium, between Antwerp and Ghent, there is a hotel in the form of… intestines. Initially, it was an art object created by artist Joep Van Lieshout that was later transformed into a guest house.
The price for the room is 150 US dollars per night.
'The Game of Thrones' Guest House
Finnish entrepreneurs recently opened an ice hotel in the style of "Game of Thrones".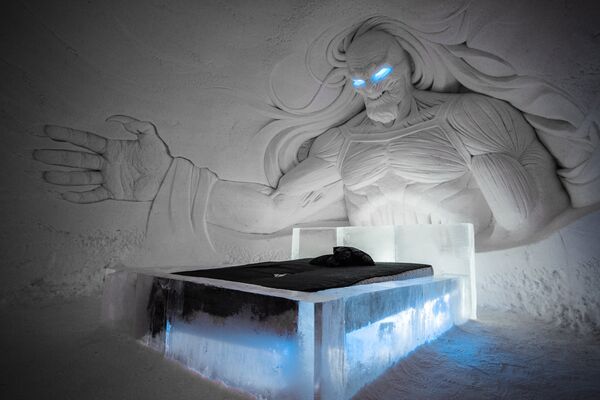 A room in the SnowVillage hotel in Lapland, Finnland
The hotel is located on the territory of the Lapland Snow Village. The temperature in the rooms is minus five degrees.
The cost of living is about 350 US dollars per room a night.
Living on a Volcano
Another unusual hotel is located on a slope of the Hengill volcano in Iceland, in the middle of the lava fields.
ION Luxury Adventure Hotel, Nesjavellir, Iceland
The guest house is located less than an hour's car drive from Reykjavik.