Steve Bannon is set to give a speech Saturday at a major conference of the French right-wing party National Front (FN) in the northern city of Lille.
Many believe that the conference, where Bannon is expected to deliver his speech, will bring FN's leader and former presidential candidate Marine Le Pen a rebranding of the party and even the renaming of it.
READ MORE: Italian Election: How Populist Parties Rise to Power
The party's deputy president Louis Aliot was the one who shed light to the explosive news about Bannon's speech on the first day of the conference.
"Welcome to Steve Bannon who will address the National Front tomorrow at our congress and will meet Marine Le Pen. The people are waking up and taking their destiny in hand," Aliot tweeted.
Later, Aliot posted a picture of him shaking hands with Bannon.
"Bannon, former strategic advisor to US president, represents rejection of the establishment of which one of the worst symbols is Brussels's EU. He has understood like Trump, Matteo Salvini and Marine Le Pen the wish of the people to control their own destiny," he tweeted.
Le Pen, who lost the presidential race to Emmanuel Macron last spring, said on March 9 that the FN, which was founded by her father Jean-Marie Le Pen in 1971, had grown up and it was time to change the branding and the name of the party.
"The National Front has become an adult. The National Front today has changed in nature. It went from a party of protest first in its youth, then from a party of opposition to a party of government," Le Pen said on French broadcaster France 2.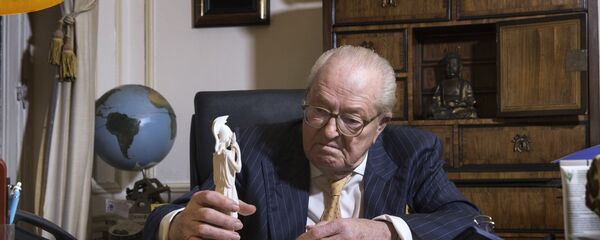 18 February 2018, 17:28 GMT
According to Le Pen, the party "must acquire the culture of alliances, acquire the culture of a government party," and "changing the name is one of the ways to make it known."
In the meantime, she emphasized that the political views of the National Front would not change; it will stand for "the defense of identity, French culture, security, the fight against immigration, and the defense of a social model, of national solidarity and especially of national sovereignty."