"A working meeting between representatives of the center for Syrian reconciliation and leaders of the Faylaq al-Rahman illegal armed formation took place, [the center] demanded to immediately separate from the Jabhat al Nusra* terror organization. The parties discussed issues related to withdrawal of the Jabhat al Nusra formations from Eastern Ghouta to Idlib as well as further destiny of the Faylaq al-Rahman group's members," Zolotukhin said.
The official pointed out that the situation in Eastern Ghouta remained tense with militants having shelled Damascus from Eastern Ghouta with seven 120-mm shells. No people were killed or injured in the incidents.
"Despite provocations staged by terrorists, the Russian center for Syrian reconciliation, supported by the Syrian government, continues the humanitarian operation in Eastern Ghouta. At 9 a.m. – 2 p.m. [07:00 – 12:00 GMT] the 13th humanitarian pause took place to ensure the work of the humanitarian corridor open for withdrawal of civilians and militants with their families, who are provided with guaranteed security and transport for the whole route [to Idlib]," Zolotukhin said.
The center also held talks with the leadership of a number of settlements in Eastern Ghouta on ensuring civilians' access to medical care and humanitarian aid.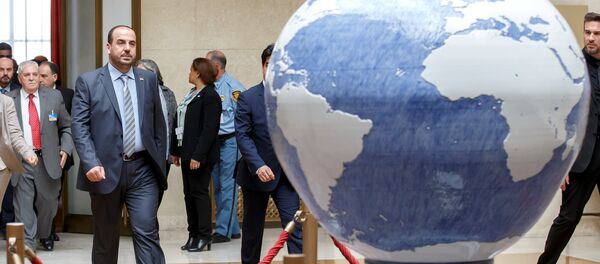 "Near the settlement of Jisreen in the southern part of Eastern Ghouta an additional crossing point continues to operate," the official noted.
Zolotukhin added that the reconciliation center, UN mediators and leaders of the Jaysh al-Islam group held negotiations on withdrawal of the second group of militants from Eastern Ghouta.
Russia, alongside Iran and Turkey, is a guarantor of the ceasefire regime in Syria. Moscow has also been assisting Damascus both through supporting the struggle against the terrorist groups and by providing humanitarian aid to residents of the crisis-torn country.
*Jabhat Fatal al-Sham (formely known as Jabhat al Nusra) is a an organization banned in Russia