"After the Center for Reconciliation demanded the immediate disengagement of the Faylaq al-Rahman group from the terrorist organization Jabhat al Nusra to discuss their further withdrawal from the region, the confrontation between the groups began. In the streets there are open battles between members of illegal armed formations; civilians are forced to seek shelter in order not to become victims of hostilities," Vladimir Zolotukhin said.
Earlier, representatives of the reconciliation center held negotiations with the leaders of the illegal armed group Faylaq al-Rahman, where they made the demand. The parties discussed issues related to withdrawal of the Jabhat al Nusra formations from Eastern Ghouta to Idlib as well as further destiny of the Faylaq al-Rahman group's members.

READ MORE: 50+ Fled Syria's Eastern Ghouta Via Humanitarian Corridor — Russian Military
The Syrian government forces have surrounded two major terrorist strongholds in the cities of Harasta and Duma in the enclave of Eastern Ghouta, an informed local source told Sputnik on Monday.
"Each of the cities [Harasta and Duma] is closely surrounded," the source said.
According to the source, the armed forces are at the cities' limits in the south. A number of districts in Harasta from the side of the highway linking Damascus and Homs have already been liberated.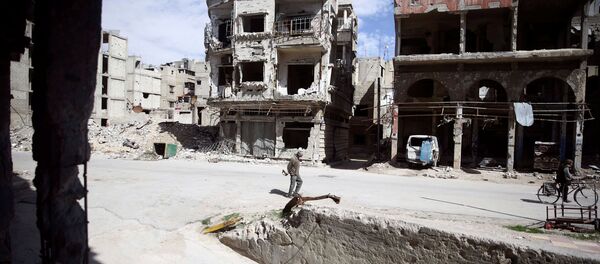 The fourteenth humanitarian pause began in Eastern Ghouta on Monday at 9.00 local time (10.00 Moscow time), there are two humanitarian corridors for the evacuation of civilians and militants — in the settlements of Muhayam and Mlekha. Recently, 52 residents of Misrab, including 26 children managed to leave the area. At the moment, militants continue to block outlets to the humanitarian corridor from
Eastern Ghouta
, preventing civilians from leaving the area.
The UN Security Council unanimously adopted resolution 2401 that urged all parties to the conflict to immediately stop all fighting's and adhere to a long-term humanitarian pause on the entire territory of Syria.
Eastern Ghouta was occupied by militants in 2012. According to Syrian Army estimations, there are 10,000-12,000 militants in the area. Despite the recent UN resolution, the combat has not ended, even when the humanitarian pause was in place, according to Russian Defense Ministry's center for Syrian reconciliation.
---
*Daesh (also known as ISIS/ISIL/IS) and Jabhat al Nusra are terrorist groups banned in Russia