Last Friday, the USS Carl Vinson wrapped up a four day visit to Vietnam. The port visit was the first of its kind since the end of the Vietnam War in 1975, prompting media and security analysts from the US, Vietnam and around the world to speculate about the port of call's geopolitical significance, and whether it marked some sort of new era in security cooperation between Washington and Hanoi.
However, speaking to Sputnik, Vietnamese political and military analyst Nguyen Minh Tam said that the only Vietnamese who were expressing excessive jubilation about the US ships' visit were those who have long become the citizens of other countries.
"The judgements made by a number of Vietnamese online newspapers and websites do not reflect the views of most Vietnamese citizens," Tam stressed. "There has been too much talk about this event, meanwhile, many representatives of Vietnam's defense ministry, air force and navy had already visited US aircraft carries passing through the South China Sea earlier."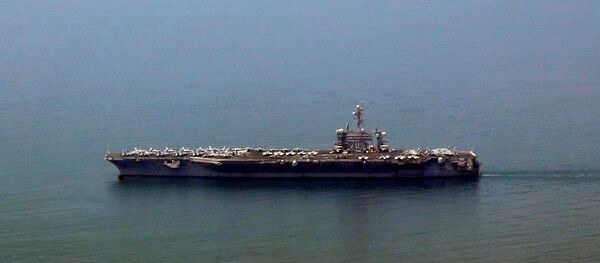 The lack of cause to sensationalize the issue was confirmed by the restraint shown by China, Tam added. "China reacted in a very restrained way because this wasn't the first time that an American aircraft carrier was passing through the South China Sea; it wasn't the first time that the US Navy has patrolled the area. US carriers can be found in all of the world's oceans, apart from the Arctic Ocean, and in its main seas, including the South China Sea, so there was nothing unusual about the USS Carl Winson's arrival in the Port of Da Nang."
In the expert's view, from the perspective of Vietnamese foreign and defense policy, the US carrier's visit was "an ordinary event." Hanoi's policy is based on the principles of "multilateralism, diversification of relations, and friendship and cooperation with all countries on the basis of respect for the independence and sovereignty of all parties," Tam emphasized.
The analyst recalled that since the mid-2000s, Vietnam has invited warships from Russia, the UK, India, France, Australia, the US and China to visit its ports, in accordance with its multi-vector foreign policy. According to Tam, Vietnam's contemporary military doctrine can be summed up by the "three nots" principle – not to participate in military alliances, not to allow foreign military bases on Vietnamese territory, and not to allow other countries to use Vietnamese territory to threaten the sovereignty or independence of a third country.
"Therefore, all this noise raised by some publications about the US carrier's port of call in Da Nang is no different from the reaction of the French colonial press and the publications of the puppet government of [South Vietnamese leader] Bao Dai to the arrival of an American aircraft carrier in the port of Saigon in 1950," the expert concluded.