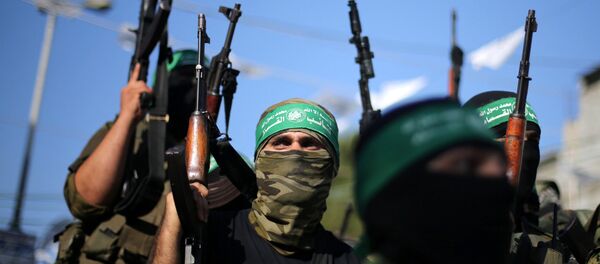 5 February 2018, 14:17 GMT
Several individuals were detained in connection to the attack. A source in the law enforcement agencies told Sputnik that members of jihadist groups, that have an ideology similar to that of the Daesh* terrorist group, might be behind the attack.
In October 2017, Hamas and its rival Fatah faction, headed by Abbas, signed a reconciliation agreement, prior to which Hamas agreed to hand over administrative control of the Gaza Strip and start talks with Fatah in order to hold a general election in Palestine. In late November, the two sides agreed to hold parliamentary and presidential elections in Palestine before the end of 2018.
Nabil Shaath, the foreign affairs adviser of Abbas, told Sputnik in February that the intra-Palestinian reconciliation process had been put on hold as the Hamas movement had not yet relinquished administrative control over the Gaza Strip.
READ MORE: Israel Returns Fire After Hamas-Staged Explosion at Security Fence
Hamas, which is listed as a terrorist organization in a number of countries, including in the United States and Israel, gained control of the Gaza Strip after a short war with Fatah in 2007. Fatah has repeatedly criticized Hamas for dividing the country and preventing the Palestinian Unity Government from ruling the Gaza Strip.
*Daesh (also known as ISIS/ISIL/IS) is a terrorist group banned in Russia