He once again urged the UK government to faithfully and properly negotiate Britain's exit from the EU, including its customs union.
"Mrs. May we did not vote for a transition period, we voted to leave this organization, we voted to leave the Customs Union, we voted to leave the Single Market. So please Mrs. May, at this summit next week do what Trump has done, stand strong against the European Commission, against the unelected bullies," MEP Nigel Farage said, during a session of the European Parliament in Strasbourg.
He went on to defend US President Donald Trump's trade protectionist policies, arguing that the EU has its own import tariffs applied on all exports into the union.
"The EU's bullying us, it bullies member states, it bullies its next-door neighbors, it even bullies the third world with its neo-colonial policies. Well of course it does because the Europe of the Junckers, the Barniers, the Selmayrs is power without accountability. Well at long last you've met your match in Donald Trump. Now you may well scream and shout about his aluminum and steel tariffs but the EU puts tariffs on 13,000 goods coming into it, meaning that shoes and bras and food are more expensive," Mr. Farage added.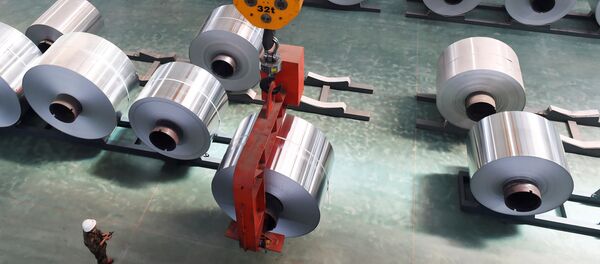 The deputy spokesman of Germany's Alternative for Deutschland (AfD) party Kay Gottschalk
defended Trump's metal tariffs last week
, criticized the EU's hypocrisy, and suggested that President Trump implemented the tariffs to pressure the EU to scrap its own trade protectionist measures. 
Trump later tweeted that the US would exempt the EU from the metal tariffs – which are currently set at a 10 percent rate on aluminum and 25 percent rate on steel – if the union issued exemptions to US exports. So far, only Canada and Mexico have been issued exemptions from the metal tariffs. 
The European Union, wonderful countries who treat the U.S. very badly on trade, are complaining about the tariffs on Steel & Aluminum. If they drop their horrific barriers & tariffs on U.S. products going in, we will likewise drop ours. Big Deficit. If not, we Tax Cars etc. FAIR!

— Donald J. Trump (@realDonaldTrump) March 10, 2018
Nigel Farage served as the leader of UKIP for around 10 years, before resigning in 2016, shortly after the Brexit referendum. He has continued to serve as a Member of the European Parliament (MEP) and regularly voices his views on UK affairs, especially Brexit negotiations.