Jens Spahn, Germany's incoming  Minister of Health, has spoken up in defense of the Tafel food bank's decision to bar non-Germans from signing up for the charity program.
Speaking on Saturday to Germany's Funke media group, Spahn said that young men standing in a line outside the small food bank premises in Essen in Western Germany  looked "so bold and robust" that the elderly as well as single parents "no longer had any chance of receiving any food."
The Christian Democratic (CDU) lawmaker added that the charity had therefore made the right decision to intervene and introduce a new rule.
In late February, the Tafel food bank was a talking point in Germany and abroad as it sparked a massive debate on xenophobia, migrants and poverty after the bank leadership ruled to suspend granting membership to foreigners until summer.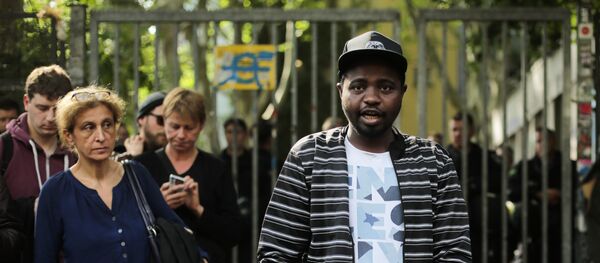 Jörg Sartor, the chairman of the Essen Tafel food bank said at that point that given the staggering percent of newcomers among their clients (around 75%), they had to temporarily introduce the new regulation so that elderly German citizens would not feel too intimidated to pick up food every week.
He even reported to have received a number of complaints about "too much shoving" during food distributions. Notably, another Tafel outlet of the 930-strong chain, in the western German town of Marl, quickly followed suit.
READ MORE: 'F**k Nazis' No More: German Charity Calls Back Policy on Prioritizing Citizens
The move was bombarded with criticism from Twitter users and ANTIFA volunteers, who vandalized Tafel's doors and scrawled "F*** Nazis" on the NGO's food delivery vans.
Separately, a negative reaction came from other German food banks as well as politicians. For instance, Spiegel magazine quoted Joachim Stamp, the Interior Minister of North Rhine-Westphalia, where Essen is located, as saying that "the level of need, not the place of origin" should determine the order in which charity food should be given away. 

The outcry even provoked a response from German Chancellor Angela Merkel, who underscored that it "wasn't good" that Tafel was handing out membership cards based on whether one holds a German passport.
The food bank finally gave in to the pressure and promised to start registering foreigners again for their service starting from the end of March.
German food banks are part of the so-called Hartz IV, a welfare benefits and unemployment insurance reform introduced in 2003 by a coalition government led by the Social Democratic Party (SPD). It has raised much controversy for the past years since it introduced more restrictive conditions under which people could claim welfare or unemployment benefits.
READ MORE: 'Germany's Rendez-Vous With Reality': Professor on Racism Accusations of Charity
To name a few, the program requires beneficiaries to attend a slew of meetings with a job-center advisor and show they're actively searching for a job. Even a single failure to show up for these get-togethers can result in a partial loss of benefits, to say nothing of the refusal to sign up for a job a claimant may be offered.
While Hartz IV has gone through several cutbacks in recent years, Spahn insisted it would continue to be measured and adjusted under the incoming government. "Everyone will therefore have what they need to live," the incoming health minister noted.