Trump was in full-blown campaign mode Saturday night, delivering a classic rambling speech during a rally for GOP candidate Rick Saccone, who is running for a seat in the US House of Representatives in Pennsylvania's special congressional election.
​Rather than tout the accomplishments of the congressional nominee he was supposedly campaigning for, Trump instead suggested the death penalty for drug dealers over their role in the opioid epidemic.
"The only way to solve the drug problem is through toughness. When you catch a drug dealer, you've got to put him away for a long time," Trump said Saturday.
"If someone goes and shoots somebody, kills somebody they get the death penalty… a drug dealer will kill 2,000 to 5,000 people during the course of his life".
"I think it's a discussion we have to start thinking about. I don't know if we're ready — I don't know if this country's ready for it," Trump added.
Anoa Changa, director of political advocacy and managing editor of Progressive Army and host of the podcast The Way With Anoa, told Radio Sputnik's Loud & Clear that it was "amusing" to hear Trump in "campaign mode," applauding other countries like China and Singapore for imposing the death penalty for drug dealers and claiming that the US should follow suit.
"He's talking about drug dealers facing the death penalty for their role in the opioid epidemic. It's really amusing to me to hear him say things like, 'we need to have drug dealers face the death penalty,' because some of the worst drug dealers are those who are sanctioned by law to do what they are doing," Changa told hosts Brian Becker and John Kiriakou, referring to pharmaceutical companies that misrepresent their products and thus have contributed immensely to the drug epidemic.
Nicole Roussell, a producer of Loud & Clear, agreed, adding that "we know that sending people to prison when they are drug dealers is not effective. There is also a massive amount of research that shows that extreme penalties don't work as deterrents."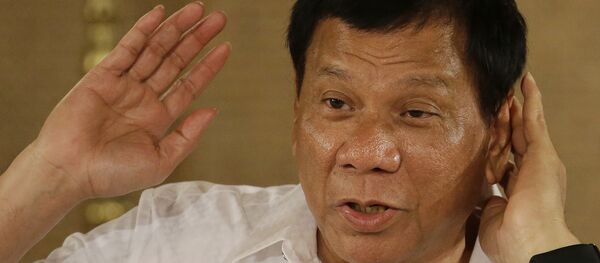 The president has previously expressed his admiration for how Philippine President Rodrigo Duterte promotes the extrajudicial murder of anyone suspected of dealing drugs. Around 12,000 people in the Philippines have been murdered by police and vigilantes for suspected drug offenses since Duterte took office in 2016, Human Rights Watch reports.
During his speech, Trump also discussed his plan to meet with North Korean leader Kim Jong Un in the near future.
"Who knows what's going to happen?" Trump said of the impending meeting. "I may leave fast or we may sit down and make the greatest deal for the world and for all of these countries, including, frankly, North Korea, that's what I hope happens."
Trump also unveiled his 2020 campaign slogan: "Keep America Great!"
"Our new slogan, when we start running, in — can you believe it, two years from now — is going to be, 'keep America great, exclamation point," he said.
Trump endorsed Saccone in January and Republican groups have spent more than $10 million on the race to support Saccone, who is currently losing to Democrat Conor Lamb, a former federal prosecutor who is running for the congressional election as a centrist Democrat.