Footage released this week by the San Joaquin County District Attorney's Office shows correctional officer Matthew Mettler hitting an arrestee — who is sitting on the floor with his legs and hands cuffed — in the pre-booking area. The detained man is wearing a "spit bag" to prevent him from spitting at officers — he allegedly spat at officers when they arrested him for public intoxication in front of a Manteca, California, family business on August 24.
​The clip shows Mettler entering the room and striking the unidentified man on the side of his head with so much force that the detainee falls over.
San Joaquin Sheriff Steve Moore said he supports the decision by the district attorney's office to file a misdemeanor assault charge against Mettler.
"As sheriff, I don't condone the actions as portrayed on this video by our jail staff," Moore said in a recent Facebook post.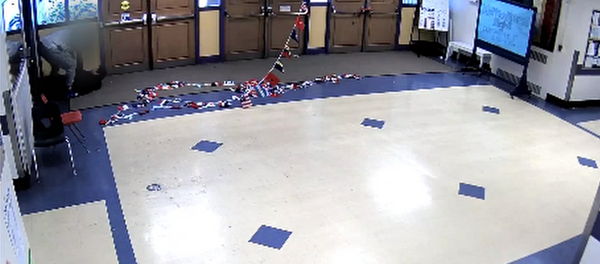 "It is inconsistent with the professionalism of San Joaquin County correctional officers and of this department. The action taken by the [district attorney's] office is appropriate and we support their position," he added.
Moore also commended the Manteca police officer who witnessed and reported the assault, although it is unclear when the assault was reported.
Mettler is on administrative leave and is expected to appear in court on March 26.