Earlier in the day, media reported, citing sources in the presidential administration, that US President Donald Trump's aides are preparing a tough, $30-billion tariff package on Chinese imports as a response to alleged intellectual property violations by China.
"We have repeatedly stressed that China is firmly opposed to any unilateral protectionist measures in trade. If the US side eventually makes a decision that will harm our interests, then, of course, the Chinese side will take necessary measures to protect its rights," Lu told a briefing.
READ MORE: 'Attack on Normal Global Trade Order': China Urges US to Scrap Metal Tariffs
He also pointed out that trade and economic cooperation between the United States and China was mutually beneficial.
Last week, Trump signed an order that imposed 25 percent tariffs on steel imports and 10 percent duties on aluminum imports. The action will go into effect on March 23. His announcement was sharply criticized by Washington's major trade partners, particularly Canada, China and the European Union, which accused Trump of excessive protectionism and pledged to impose countermeasures.
© AP Photo / Ahn Young-joon
A worker walks by rolls of steel products at Posco steel mill in Pohang, south of Seoul, South Korea, Friday, Dec. 5, 2003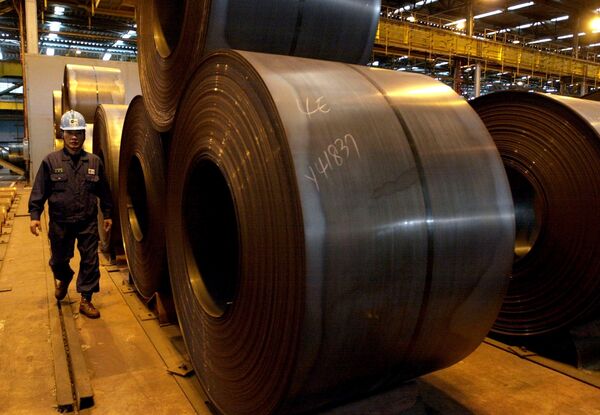 A worker walks by rolls of steel products at Posco steel mill in Pohang, south of Seoul, South Korea, Friday, Dec. 5, 2003
© AP Photo / Ahn Young-joon