"We regard such threats as appeals for aggression against a sovereign state in violation of all international legal norms. We consider this absolutely unacceptable," Shulgin said at a session of the OPCW Executive Council on Wednesday.
On March 12, the US Ambassador Nikki Haley claimed at a UN Security Council meeting that Washington is ready for new actions on Syria if it is necessary.
She also said the US attacked the Syrian government's Shayrat Airbase in 2017 because Washington believed it had been used for launching a chemical attack in Syria's Khan Shaykhun on April 4, 2017.
READ MORE: Chemical Weapons Accusations on Damascus Always Come as Syrian Army Wins – Envoy
Shulgin went on to say that the chlorine findings on the liberated Syrian territories prove that terrorists have toxic agents. He added that chemical attacks occur in the conflict zones at a "frightening" frequency.
"We see evidence of this in Syria, where terrorist groups are actively using toxic agents, mostly for provocative purposes, to put the blame for the use of chemical weapons on Damascus," he said.
Earlier in the day, Russian Foreign Minister Sergei Lavrov said the United States had plans to gain a foothold in Syria, including preparation of new provocations in Syria using chemical weapons, particularly in the Damascus' suburb of Eastern Ghouta.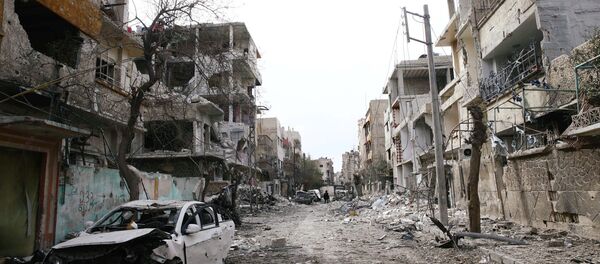 On March 12, Russian Ambassador to the UN Vassily Nebazia said during a UN Security Council meeting that the Nusra Front* terrorist group used chlorine gas in Syria's Eastern Ghouta on March 5.
The situation in East Ghouta is tense despite the adoption of UN resolution 2401 calling for ceasefire across all the country. The al-Qaeda*-linked Nusra Front terrorist group (both banned in Russia) has launched daily rocket and mortar attacks on Damascus. Russian officials have blamed Nusra for the escalation in violence.
*A terrorist group banned in Russia