The 2018 FIFA World Cup is set to happen between June 14 and July 15, 2018 in Russia. The official draw put the Egyptian team in Group A, where it will play against Russia, Saudi Arabia, and Uruguay. The Russian and Egyptian teams are to meet on June 19 in St. Petersburg.
"Many Egyptian football fans want to visit Russia and attend the games. We expect 50,000 Egyptian football fans to visit Russia, from 20,000 to 50,000," Ezabi said.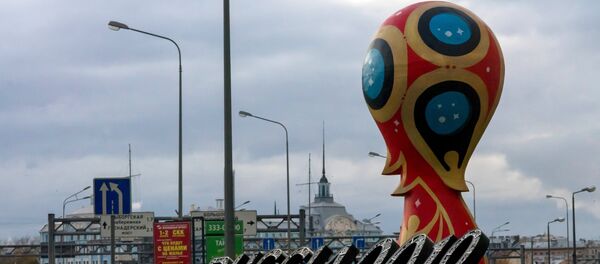 23 January 2018, 12:38 GMT
According to the adviser, resumption of direct flights between Moscow and Cairo will encourage more Egyptian football fans to visit Russia.
READ MORE: Over 100,000 Football Fans Booked Free Train Tickets for 2018 FIFA World Cup
Flights between Russia and Egypt were suspended in October 2015 after a bombing attack on a Russian passenger plane over the Sinai Peninsula, resumption of flights between the two nations has been postponed several times. On Tuesday, a source at the Egyptian airline EgyptAir told Sputnik, that the company is planning to carry out its first direct flight from Cairo to Moscow on April 15.