Police in Berlin have opened an investigation into the spread of false information by social media users about last week's murder of a 14-year-old girl in the German capital Berlin, according to Deutsche Welle.
The users include Lutz Bachmann, founder of German anti-Muslim and anti-migrant group PEGIDA, who faces charges of libel, false suspicion and incitement to hatred for having tweeted two images of an innocent young man who Bachmann claimed was "probably" the killer.
© Photo : Lutz Bachmann twitter screenshot /
Lutz Bachmann's twitter screenshot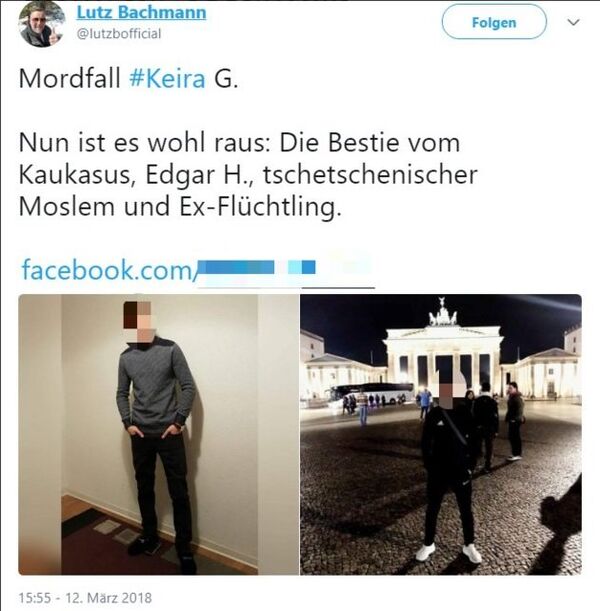 Lutz Bachmann's twitter screenshot
© Photo : Lutz Bachmann twitter screenshot /
In a tweet that was later deleted, Bachmann described the man as a "beast from the Caucasus," also calling him a "Chechen Muslim and ex-refugee." Additionally, Bachmann included a link to the man's Facebook page.
READ MORE: 11+ Reportedly Detained at Dutch Rally Hosted by Anti-Islamization Group PEGIDA
Speaking to Sputnik, PEGIDA acknowledged "regrettable confusion" concerning Bachmann's publication of an innocent young man's photo.
"Of course, it is unfortunate that a wrong person was possibly associated [with the crime], if no factual statement was made in the tweet, but merely a conjecture," PEGIDA pointed out.
A girl identified as Kiera G. was stabbed to death in her Berlin home on March 7, prompting an immediate uproar among right-wing groups and individual social media users.
READ MORE: Flow of Migrants From N Europe to Germany Up 35% in Jan-Oct 2017 – Reports
They blamed the German government for keeping mum on the    suspect's identity, alleging that the killer was a migrant.
Ist das das Bild aus dem Facebook-Profil, das auch Lutz Bachmann gepostet hatte? Wegen dem Post er jetzt Ärger bekommt? Und du meinst, das ist in Ordnung, das Bild einzustellen? Der Täter ist auf jeden Fall Jugendlicher!https://t.co/cMf7OMmcLj

— Fritz von Steiner (@F_von_Steiner) 13 марта 2018 г.
"Is this the picture from the Facebook profile that Lutz Bachmann also posted? Is he now in trouble because of the post? And do you think it's ok to blur the picture? The perpetrator is definitely the teenager!" according to this tweet.
The suspected killer is a 15-year-old German boy who reportedly was Kiera G.'s classmate. He was arrested late last week and he is not the same person who was mentioned by Bachmann, according to police.
READ MORE: German AfD Party Mulls to Join Anti-Islamization PEGIDA Rallies — Reports
PEGIDA emerged in October 2014 in Dresden, where it attracted hundreds and later thousands of supporters during weekly anti-Islamization marches.