Sputnik: With the current political relationship between Russia and the UK, doesn't the timing of this attempted assassination seem a little bit odd, especially taking into account he was collaborating with MI6?
Annie Machon: I am completely confounded by this. I said this right from the start. There are three things that the police and the intelligence agencies need to look into since the attack happened and that is one; to find eyewitnesses and check CCTV, the second was to check the substance, which apparently they now have done; the third and key point is surely the motive behind this attack.
He had spied for MI6 whilst he was working in Russia and had been caught. He had been tried, convicted and sent to prison and then he was pardoned and released back to the UK into MI6's keeping by the spy swap by the Russians in 2010. So having gone all the way through that process, he would have been picked clean intelligence wise by the Russians and he would have been debriefed and picked clean again by MI6 once he had arrived in the UK. So seeing this linked to his old history is a little disingenuous.
READ MORE: 'One of the Great Hoaxes': Skripal Poisoning Evokes 'Deja Vu' of Iraq War Run-up
Sputnik: Is there a likely explanation for this attack which isn't just simply pointing fingers at Russia with no solid evidence?
Annie Machon: The majority of the media have been running with the whole 'the Russians did it' since this story broke. It's ironic that even the Home Secretary in the UK Amber Rudd was trying to tell them to slow down and get the police to do their work first before we jumped to the conclusion.
In terms of motivation, it depends who he's been working with and what he's been involved in. He may well have been involved in other aspects, where he has made dangerous enemies of whatever nationality.
They have identified apparently the substance that was used which was a nerve agent developed by the Russians over 30 years ago, but that doesn't mean the knowledge of how to make this substance is confined solely to the Russians, because you always get rogue agents and I say this not in any conspiratorial sort of way, but based on history. Because if you remember after the 9/11 attacks in America there were a series of anthrax letters sent out to politicians and to editors of the national media across America and five people died and 17 people were injured in these attacks.   Nobody knew where they came from but eventually, after years of investigation it turned out this was weaponized anthrax that had been developed specifically in one laboratory in an American facility and that was blamed on a rogue agent working there, who had a grudge and released these envelopes to attack people. So this can happen too, just because it comes from a military agency in whatever country, doesn't mean it's going to be the state acting against the target.
READ MORE: Moscow Warns UK Against Delivering Ultimatums to Russia Over Skripal Case
Sputnik: What are May's options moving forwards?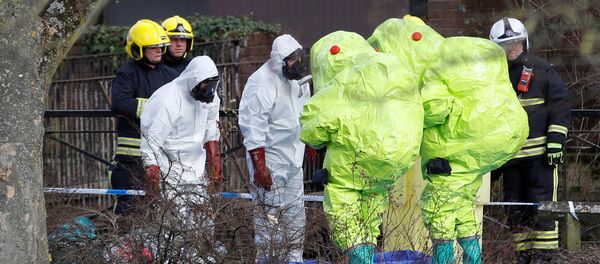 Annie Machon: She threw down the gauntlet last night and the Russian Embassy has until midnight tonight to explain why Russia was not involved in this attack which I think is rather a reckless thing for a prime minister of the UK to do and also until the Russians know what the alleged evidence is against them how can they respond effectively.
It's ironic that the Foreign Minister Sergei Lavrov a couple of days ago offered to help in this investigation, but in terms of what the British can do their options are fairly limited and I don't think they're going to terrify the Russian state too much. Yes they can chuck out a few Russian diplomats and they can withdraw from the World Cup and there is a rumor they may try and launch a cyberattack against Russia and again that is a dangerous path to go down in the immediate anticipation of the presidential election next weekend. Because aren't the Russians then going to say 'the British are interfering in our democratic process in electing our head of state.' So I think she rather jumped the gun there. They should have waited for further confirmation about the motives behind the attack and who might be the players specifically behind this attack.
The views and opinions expressed by Annie Machon in this article are those of the speaker and do not necessarily reflect the position of Sputnik.