Another six militiamen were injured in the airstrike by a Turkish warplane. It's unclear if the subsequent artillery fire resulted in the death of any Turkish servicemen or Turkey-backed militants.
"The Turkish aircraft hit the checkpoint of the defense forces, separating the town of Nubl from the Zahraa village. It has resulted in death of eight members of the national defense forces (NDF) and in injuries of six more," a source told Sputnik on Wednesday.
Over the course of Turkey's military operation in Syria – officially called operation Olive Branch – reports have emerged of confrontation between Turkish forces and local combatants allied to the Syrian government.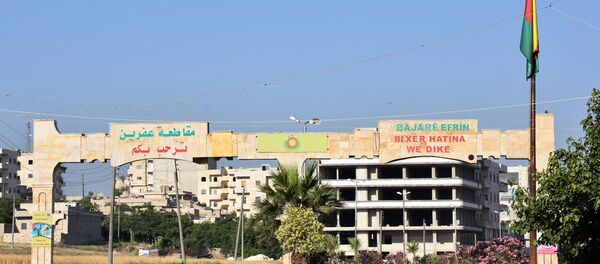 The Syrian government condemned the offensive on its soil, describing it as a violation of the country's sovereignty, and allowed Kurdish-led anti-Turkey forces to cross through its territory to reinforce Afrin and other defensive positions near the Syria-Turkey border.
President Bashar al-Assad decided not to deploy troops from the Syrian Army to fight Turkish forces. Instead, local militiamen from Shia enclaves in northern Syria opted to deploy to Afrin to battle Turkey-backed militants.
These militiamen are particularly keen to fight Turkey, as they were besieged by Turkey-backed Islamist militants in northern Syria for several years.
Turkey launched operation Olive Branch in January 2018, and has since seized all territory along the Syria-Turkey border in northwestern parts of the country.
In the space of 54 days, Turkish forces have captured around 1,300 square kilometers of territory, and neutralized almost 3,500 "terrorists," according to reports by Turkish media.
The Turkish government often describes Kurdish-led forces in Syria as "terrorists" due to their alleged ties to the PKK — an internationally-designated terror group, who have fought an insurgency in southeastern Turkey for three decades.