US President Donald Trump's oldest son and Vanessa got married in November 2005 and have five children together.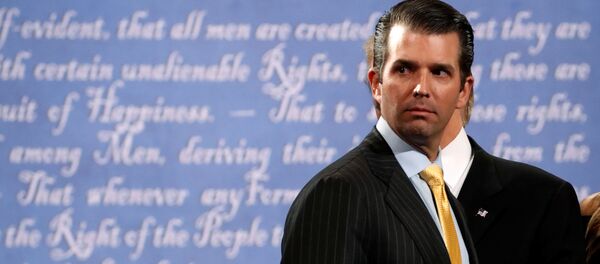 13 February 2018, 04:18 GMT
Although they are not legally separated, some friends say they expect the couple to file for divorce soon, Page Six reported.
Representatives for Donald Jr., Vanessa and and the Trump Organization have all declined to comment, despite several requests from Page Six over the last couple of days.
According to one anonymous source, "The problems have been there for a long time, the couple had hoped to stay together during the president's time in office, but it is getting harder to resolve their issues. He's never there."
Donald, Jr., is an avid hunter who embarks on frequent hunting trips. Last month, he went to India to meet with real estate brokers and promote Trump-branded luxury apartments in the country.
Another source said, "Don, Jr. has been busy traveling, which has contributed to their problems. Vanessa is a devoted mother, but she is increasingly lonely and alone in the house with the children."
Two of the sources that spoke to Page Six recently also confirmed that Donald, Jr. has changed and friends are "concerned about him," especially over his tweet linking antidepressants to mass shootings this month. They also referenced a situation in which he liked a tweet attacking a student survivor of the Stoneman Douglas High School massacre in Parkland, Florida.
According to the Daily Beast, following the school shooting, Donald, Jr. urged his dad to hold firm on gun rights.
Over Halloween, Donald, Jr. also reportedly tweeted that he would take away half of his three-year-old daughter's candy because "it's never too early to teach her about socialism."
Last year, Donald, Jr. also allegedly requested his 24-hour Secret Service detail be removed because he wanted more privacy.
The sources also claim that Vanessa is concerned with her family being under the spotlight. One source told Page Six: "Vanessa is by nature is a very low-key person and she is uncomfortable with the attention her family is getting now [that] the Trumps are on the world stage. She is also worried for her kids, particularly after she received the threatening letter containing the white powder."
In February, Vanessa was admitted to a hospital after she opened a letter addressed to Donald, Jr. that was mailed to their Manhattan home. Although the hospital admission was a precautionary measure, Vanessa was terrified after receiving the explicit threat and seeing the powder in the envelope. The New York Police Department later confirmed that the powder wasn't hazardous, but according to Page Six, "it was terrifying for Vanessa, who is naturally worried for the safety of her children."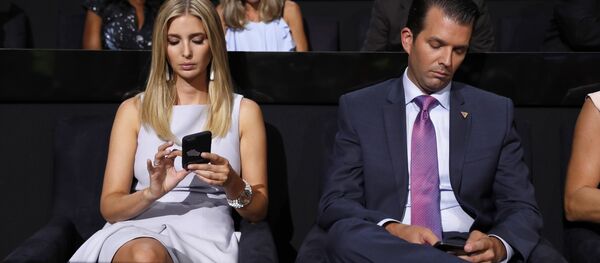 A separate source told Page Six that although the pair was having marital disputes, they had not reached the point of divorce
"Donald, Jr. and Vanessa have been dealing with some issues, but they are not yet at the stage of filing for divorce. They are trying to deal with this privately," the source said.
"Don is still living at home, is a good dad and is super involved in his kids' lives. He has always traveled for work, so his current schedule is not something out of the ordinary. He has a busy travel schedule now as he always does," the source added.
In addition, the same source confirmed that Donald, Jr. "hasn't changed."
"Don has always had a bold and aggressive nature on social, there's no change to his stance on Twitter. His behavior hasn't changed, there's nothing irrational about him, he's always been bold, will say what he thinks and fight back, that's his personality on Twitter," the source said.
However, the source also added, "While they are not legally separated, I cannot deny there are issues, there are a lot of intricate things that go on in a marriage. Don and Vanessa are focused on their family, they are trying to do this quietly and privately and when they have something to say on the record, they will do so. This has nothing to do with politics, this is a personal matter between two people."