According to the Politico media outlet, the tariffs package was presented by US Trade Representative Robert Lighthizer as a response to alleged intellectual property theft by China. After the meeting, Trump reportedly demanded his aide to target bigger numbers and instructed the presidential administration to get prepared for the official announcement in the coming weeks.
The new trade package may affect imports of more than 100 various Chinese products, although some details, as well as the timing of the announcement of new tariffs could be changed, the media outlet added.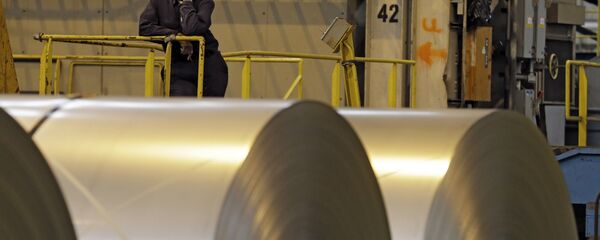 On Thursday, Trump signed an order that imposes 25 percent tariffs on steel imports and 10 percent duties on aluminum imports. The action will go into effect in 15 days. His announcement was met with condemnation from Washington's major trade partners, particularly Canada, China and the European Union, which accused Trump of excessive protectionism and pledged to impose countermeasures.
In August, the US president signed a memorandum ordering Lighthizer to investigate China's trade policies, including the alleged $600 million theft of US intellectual property rights annually, under Section 301 of the 1974 US Trade Act, which allows Washington to take unilateral action against foreign governments that violate international trade agreements or damage US trade interests. China denies the claims.