"I am not a specialist in chemical weapons, but you see yourself that people have no burns, no ulcers or signs of suffocation. These claims are groundless," Eastern Ghouta resident Adnan Qafouzi said.
Ibrahim Hakim who lives in another district also denied the claims of chemical weapons use.
Syrian authorities have been repeatedly accused of using chemical weapons against civilians in the conflict that began in 2011.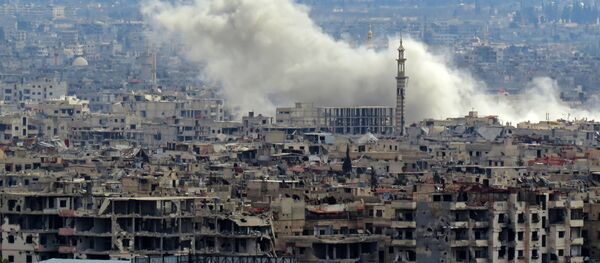 On January 26,
 the White Helmets
, a Syrian opposition civil defense group operating in militant-held areas, reported that three civilians had been killed and dozens more were wounded in a suspected chlorine gas attack on Eastern Ghouta.
The same day, US State Department spokeswoman Heather Nauert accused Syrian authorities of staging this attack, which was vehemently rejected by Damascus. 
READ MORE: Ghouta Operation Isn't Political, People Just Want Normal Lives — Carla Ortiz
Earlier this month, the Russian center for Syrian reconciliation reported that Syrian terrorists were preparing provocations involving chemical warfare agents in Eastern Ghouta, which would be used by western states as a pretext for accusing Damascus of the use of chemical weapons against Syrian civilian population.