"Today, I visited President Andrej Kiska and told him that I am ready to resign. It is important that the current government coalition preserves its mandate that it has received from the voters," Fico said on Wednesday at a press conference.
The prime minister urged Kiska to "respect" the cabinet as a first condition for his resignation.
"Second [condition] – the existing coalition agreement, and third – coalition agreement that the prime minister candidate is tabled by the Direction – Social Democracy party. If the president agrees with it, I am ready to file a resignation letter tomorrow," Fico added.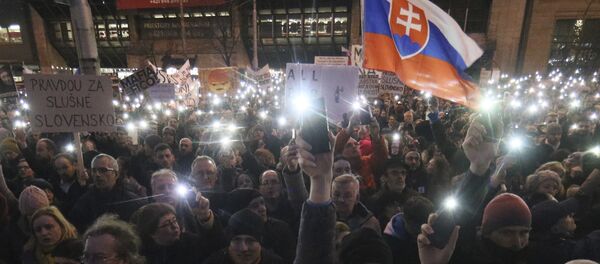 The crisis has been escalating in
Slovakia
following the murder of local journalist Jan Kuciak. The journalist, who had been investigating the Italian mafia's activities in Slovakia and its links to senior Slovak officials, was found with shot dead with his fiancee in their home on February 26. The assassination provoked mass protests with an estimated 50,000 people rallying in Bratislava and thousands more in other cities demanding a thorough investigation into the journalist's murder and the resignation of the government.
Slovak media reports indicate that Fico's party plans to nominate Deputy Prime Minister Peter Pellegrini.
Last week, the Slovak president accused the cabinet of insufficient efforts to settle the domestic crisis and called for a re-shuffle of the government or snap parliamentary elections. On Monday, the country's Interior Minister Robert Kalinak resigned following demands for his resignation by the protesters.