According to a number of reports, Vanessa filed for divorce Thursday in New York's Manhattan Supreme Court. The filing was listed as "uncontested," which suggests there won't be legal battle over the custody of their five children or assets.
Rumors of the crumbling of their union first surfaced this week after multiple sources confirmed to Page Six that the two were having marital issues.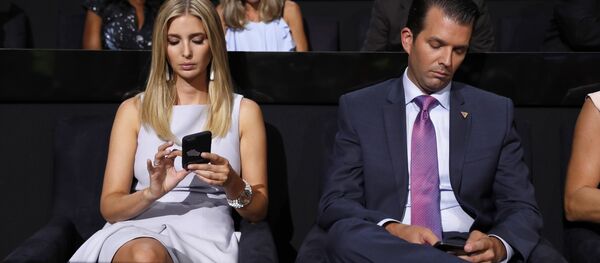 26 September 2017, 21:41 GMT
"The problems have been there for a long time, the couple had hoped to stay together during the president's time in office, but it is getting harder to resolve their issues," one source told the outlet. "He's never there."
Another source suggested to the publication that their issues stemmed mostly from the fact that Junior has been traveling more than earlier on in the relationship.
"Don, Jr. has been busy traveling, which has contributed to their problems," another claim stated. "Vanessa is a devoted mother, but she is increasingly lonely and alone in the house with the children."
The couple have been married since 2005.
The announcement comes a month after Vanessa was hospitalized after opening a letter addressed to her husband that contained a white powder. The substance was later found to be cornstarch.
Neither Vanessa nor Don, Jr. have released a statement on the matter.