The China Shipbuilding Industry Corporation (CSIC) appears to have leaked the scaled down model of what Beijing envisions for its next-generation aircraft carrier in the batch of photos. As reported by Sputnik at the end of February, CSIC seeks to complete a nuclear-powered aircraft carrier by 2025. The French and US Navies are the only services with nuclear-powered carriers in their fleets to date.
© Chinese social media /
Type 003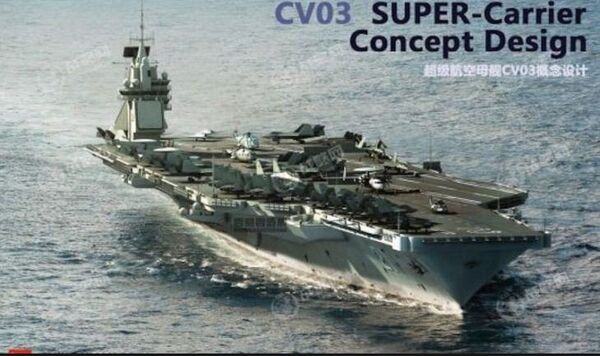 Type 003
The ability to run on nuclear energy affords commanders much greater range to travel across the globe without a need for ports for refueling.
According to Popular Science, CSIC released a picture — temporarily — of the Type 003 aircraft carrier China seeks to build. The carrier featured four catapults, stealthy J-20 jets, and unmanned combat aerial vehicles (UCAV). The ship would be the largest non-US warship in the world, the Popular Science report notes.
Another feature China would like for its future carriers to have is electromagnetically assisted launch system (EMALS) for the takeoff aspect of naval aviation. Steam-assisted launches are not so desirable because of how much space they take up underneath the deck and the fact that they require more maintenance and more expensive maintenance than EMALS.
There have been some discussions about the US Navy sharing parts of its secretive, and still very new, EMALS technology with India. The USS Gerald R. Ford tested the first successful EMALS launch of an F/A-18 Super Hornet just last August.