New Delhi (Sputnik) — India's opposition has accused the Narendra Modi-led government of financial misappropriation to the tune of $5.5 billion in the 2016 deal for French Rafale jets. Rahul Gandhi, president of the Indian National Congress (INC), has claimed that since French firm Dassault Aviation has disclosed the price at which it is selling the fighter jets to India, the "confidentiality clause" claim by the government is nothing but a"lie."
READ MORE: Opposition Attacks Modi Government for Keeping Rafale Price Under Wraps
"Dassault called the Defense Minister's lie and released the price paid per Rafale plane in report. Qatar = INR 1319 Cr ($202 million), Modi= INR 1670 Cr ($256 million), Manmohan Singh =  INR 570 Cr ($87 million)," Rahul Gandhi tweeted.
Dassault called RM's lie and released prices paid per RAFALE plane in report:

Qatar = 1319 Cr
MODI = 1670 Cr
MMS = 570 Cr

1100 Cr per plane or 36,000 Cr i.e 10 % of our Defence budget, in the pocket.

Meanwhile, our Army begs our Govt. for money. pic.twitter.com/fE5tj4IaeN

— Office of RG (@OfficeOfRG) March 16, 2018
Rahul Gandhi claimed that the previous government led by his party under the leadership of Manmohan Singh had finalized the price of the same fighter aircraft with Dassault Aviation at $87 million per unit. The proposed contract for 126 Rafale fighters was later abandoned by the Narendra Modi government only to initiate a fresh deal with the French government for 36 fighter aircraft. Rahul Gandhi has alleged that the Modi government has pocketed at least 10% of the country's defense budget by signing the fresh deal at an inflated price.  
Rafale deal is indeed the scam of scams of our time.Planes reduced from Air Force req of 126 to 36 by Modi himself! Price increased by 1100Cr/plane while Defence starved of funds! HAL replaced by Ambani & given 22000 Cr contract! Transfer of technology removed! Na Khaonga Modiji? https://t.co/h6xAxKTxLt

— Prashant Bhushan (@pbhushan1) March 16, 2018
"INR 1100 Cr ($169 million) per plane or INR 36000 Cr ($5.5 billion) i.e. 10 % of our defense budget, in the pocket. Meanwhile, our Army begs our government for money," Rahul Gandhi claimed.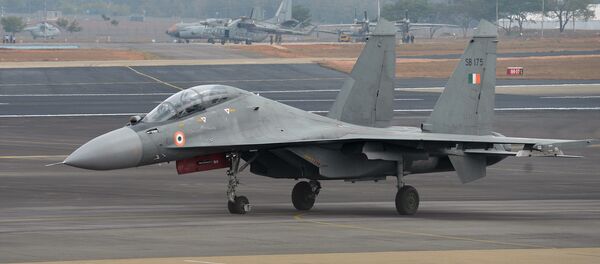 5 December 2017, 13:15 GMT
At the same time the current government has been claiming that the previous administration led by Manmohan Singh was not able to conclude the deal. 
"It had not been possible to finalize the terms and conditions to acquire the 126 aircraft even after protracted negotiations during the issue period of of the Request for Proposal (RFP) from 2007 to 2014. Further, there was only license manufacturing involved for 108 aircraft for manufacture in India. As such, the terms and conditions between the earlier exercise to procure 126 aircraft and the procurement of 36 Rafale aircraft in direct fly-away condition including cost per aircraft cannot be compared," Subhas Bhamre, India's Minister of State for Defense had said in parliament on March 12.
The same day, Bhamre had also revealed for the first time the unit cost of the aircraft to be INR 6.7 billion ($103.12 million); after Dassault Aviation released the cost of the aircraft in its annual report earlier this month. "The cost of each Rafale aircraft is approximately Rs. 670 crore at the prevailing exchange rate of November 2016; without associated equipment, weapons, India Specific Enhancements, maintenance support, and services," Bhamre had said.