'Russia Understands the Situation in the Middle East Far Better than Washington'
Fady Marouf said that the "Russian presence [in Syria] is huge," but reminds that, as opposed to some countries, Russia was invited by the Syrian government when it was in a desperate situation.
"Syria has some friends who proved themselves in the country's time of need — when Bashar Assad's government requested help from Moscow. So Russia is here on a legitimate basis, as opposed to other countries, such as the US and Turkey, who disregard our sovereignty," Fady Marouf told Sputnik Mundo, adding that a month before Moscow "joined the war against terrorism," multiple Syrian provinces "were seized by extremists."
READ MORE: 'Assad Has Won': US Centcom Chief Wants to Contend Russia's Influence in Syria
Marouf is adamant that Russia understands the situation in the Middle East far better than Washington and European countries, who seek to weaken Syria and other governments in the region "to please Israel." He compares the behavior of American troops in Iraq, who "won't allow anybody near them" and the Russian ones, who are very friendly towards the local population.
© Photo : Fady Marouf /
Fady Marouf, Syrian journalist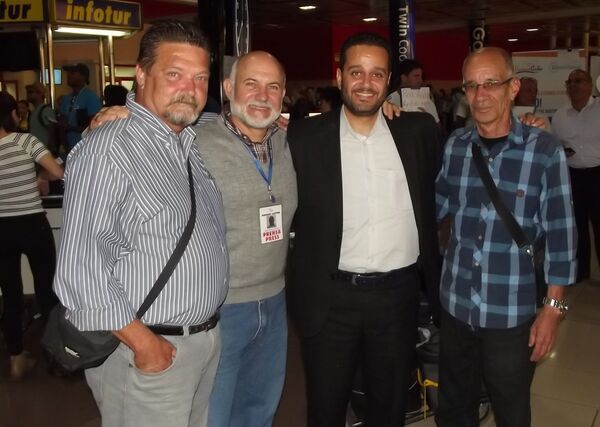 Fady Marouf, Syrian journalist
'Washington Seeks to Strip the Russians of Their Influence'
The journalist is confident that the Syrian crisis will lead to a "new multipolar world order" instead of a unipolar one with "Washington at its center." He notes that it was the Russian "no" in the UN that prevented the US from bombing his country.
READ MORE: Thank You For the Russian 'No'
"Russia helps us and we, Syrians, owe it big time. The US government seeks to destroy this friendship between Russia and Syria, to pressure the Russians in order to strip them of their influence in the world," he said.
New Hope
Fady Marouf believes that the Syrian people are far more optimistic about their future today than 4 or 5 years ago, when Daesh* seized a significant part of the country and al-Nusra* was on the rise.
"Today, Syria is rebuilding itself, rising again and Syrian people know that the worst part is over, meaning the coup against the Syrian government has failed," journalist said.
READ MORE: Russian Operation Enabled Syria to Go All Out After Daesh — Indian Author
He also noted now that the Syrian army is winning and people have begun to feel new hope, see improvement in their lives — largely due to the country's friends and allies, namely Russia and Iran.
'Sputnik Is a Wall Against the Information War'
According to Marouf, the Sputnik news agency has some fine field correspondents in Syria, highlighting events there and that it is among three media outlets he uses to search for relevant information. The other two are RT and Prensa Latina.
"Sputnik works both in war zones along the Syrian army and highlights the restoration of peaceful life; publishes interviews with Syrian officials and officers," he said.
READ MORE: Russian FM Lavrov Slams US Threats to Strike Syria as 'Unacceptable'
He added that Sputnik is an important part of the wall that protects Syria from the information war waged against it, as well as a good alternative to other major media in the world.
*Daesh (also known as ISIS/ISIL/IS) and Jabhat al-Nusra (also known as Tahrir al-Sham) are terrorist organizations banned in Russia.