Washington is trying to pressure Belgrade into sacrificing its national interests for the sake of the dubious benefits of European integration, Sputnik political observer Vladimir Ardaev writes, commenting on Assistant US Secretary of State Wess Mitchell's recent Balkan tour.
Ahead of Mitchell's arrival in the Serbian capital, the Belgrade daily Vecernje Novosti reported that the US politician was about to make the Serbian government an "offer one can't refuse" — namely, a four-point "package" on Kosovo.
According to the media outlet, the supposed "Mitchell plan" envisages granting broader executive powers to the so-called Community of Serb Municipalities (ZSO), as well as authorities in public health, education and culture in close cooperation with the vice-president of the Kosovo government elected from the Serbian community. In exchange, Belgrade will be expected to stop preventing Pristina from joining international institutions including the UN.

16 February 2018, 17:44 GMT
Once Serbia accepts the offer, the doors of the EU will be opened wide for Belgrade which will also then enjoy America's economic and diplomatic support, the media outlet specified.
However, while being in Pristina Mitchell denounced the media report as "journalistic creativity." Instead, the US politician emphasized the importance of the creation of the armed forces of Kosovo.
"If Mitchell, as he claims, does not have a clear plan [for Belgrade] and his main task is to intensify the dialogue on the normalization of relations between Belgrade and Pristina, then the statement that the US will assist Kosovo in creating its own armed forces is unlikely to facilitate this dialogue," Stefan Surlic, lecturer at Belgrade University's Department of Political Science, told Sputnik Serbia.
During his meeting with Mitchell Serbian President Aleksandar Vucic made it clear that Belgrade strongly opposes the formation of a Kosovo army.
"I ask anyone from the US or EU to show me a document allowing Kosovo to establish its own armed forces. It doesn't exist," Vucic said, as quoted by Balkan Insight.
Ardaev highlighted that neither Vucic, nor Mitchell had made remarks about the alleged American "offer." The Serbian president noted that Belgrade is "ready to talk about possible compromises," and expressed doubts on Kosovo's pledge to form a ZSO with a Serbian majority.
© REUTERS / Ognen Teofilovski /
People take part in celebrations of the 10th anniversary of Kosovo's independence in Pristina, Kosovo February 17, 2018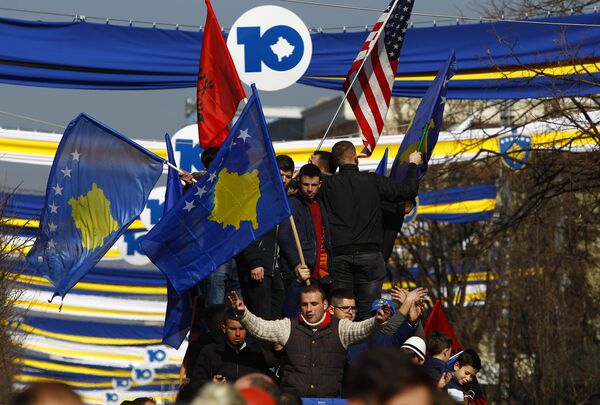 People take part in celebrations of the 10th anniversary of Kosovo's independence in Pristina, Kosovo February 17, 2018
What's Really Behind the Alleged 'Mitchell Plan'?
The supposed "Mitchell plan" has not come out of the blue, the Sputnik political observer remarked: Previously, a similar strategy was proposed by Finnish diplomat Martti Ahtisaari. However, Belgrade has repeatedly signaled that it won't accept Kosovo's independence with a UN membership.
"The President has repeatedly said that what is only acceptable to us is compromise, but this is not a compromise, but simply a more colorfully packed capitulation," Serbian political scientist Dragomir Andjelkovic told Sputnik. "I am convinced that Russia will support us. If this project is really presented, we should ask Moscow and Beijing to provide us with even more active support and to inform the European states that if this is the condition for European integration, then we will abandon it."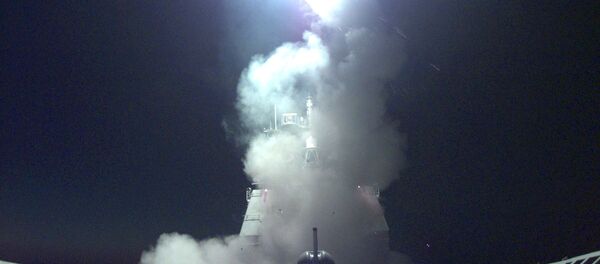 18 February 2018, 10:53 GMT
Sasha Adamovic, a historian and specialist on American affairs shares a similar stance: Kosovo's accession to international organizations is absolutely inacceptable for Belgrade.
"I believe that America should abandon the policy of pressure and blackmail towards Serbia, and Belgrade, in turn, should pursue a more active foreign policy and take a more clear position on its priorities," Adamovic stressed, adding that Serbia strongly opposes Kosovo UN membership as well as the West's attempts to pressure Belgrade into joining the anti-Russia sanctions regime.
The historian presumed that Mitchell's ultimate task is to facilitate Serbia's accession to the Western bloc and to drive a wedge between Belgrade and Moscow. He drew attention to the fact that the US politician belongs to the new generation of neo-conservatives pursuing an openly anti-Russia policy, considering Moscow, Beijing and Tehran America's primary geopolitical rivals.
"The alleged 'Mitchell plan' is very similar to what the [US influential think tank] Atlantic Council offered us before," Adamovic noted. "The question arises as to… whether the White House supports this plan… Having endorsed this strategy, the White House would create two fronts of confrontation in Europe — against Serbia and against Russia."
© AP Photo / Darko Vojinovic
Protesters hold a picture of Russian President Vladimir Putin during a protest against NATO in downtown Belgrade, Serbia, Saturday, Feb. 20, 2016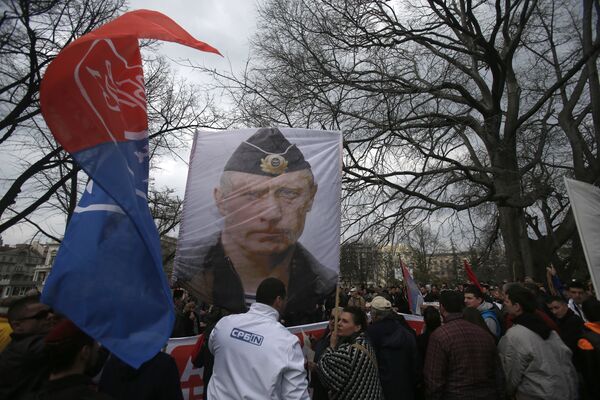 Protesters hold a picture of Russian President Vladimir Putin during a protest against NATO in downtown Belgrade, Serbia, Saturday, Feb. 20, 2016
© AP Photo / Darko Vojinovic
Polls Indicate: Serbians Trust Putin More Then They Trust Trump
Meanwhile, upon Mitchell's arrival the Serbian media outlet Politika released the results of two independent polls: Serbian respondents were asked to list in descending order international leaders they trust.
The survey indicated that Russian President Vladimir Putin heads the list with 58 percent approval. He is followed by German Chancellor Angela Merkel who got 42 percent of votes. President of the People's Republic of China Xi Jinping is in third place (34 percent). The list also included Donald Trump (22 percent), British Prime Minister Theresa May (16 percent), French President Emmanuel Macron (16 percent) and Turkish leader Recep Tayyip Erdogan (7 percent).
The views and opinions expressed by the contributors do not necessarily reflect those of Sputnik.