"The Trump administration wants to make life so miserable for asylum seekers that they give up and return to their home countries, even at the risk of torture or death," American Civil Liberties Union (ACLU) Immigrants' Rights Project lawyer Michael Tan said in a press release on Thursday. "The administration is wielding indefinite detention as a weapon to deter future asylum seekers, which is both cruel and unconstitutional."
The release said that the ACLU was joined by the Center for Gender and Refugee Studies, Human Rights First, and Covington & Burling LLP in filing the legal motion.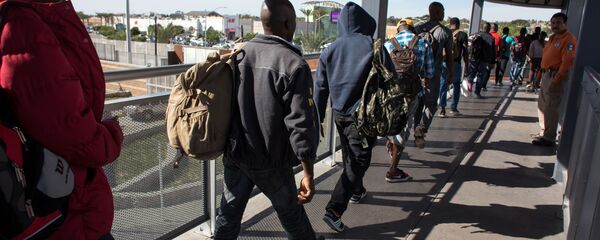 The rights groups said that all
asylum seekers
have passed credible fear screenings, meaning that the US government has determined that they have credible fear of prosecution in their country of origin, according to the court documents.
However, instead of providing them with humanitarian parole, as stipulated in the US Constitution, the Trump administration is indefinitely jailing them, the plaintiffs claim.
The case cites the leading plaintiff Ansly Damus, an ethics teacher from Haiti, who has twice passed the credible fear screening and yet is being jailed for over a year at this point.
The Trump administration has put Damus behind bars for indefinite period of time after he has been granted asylum, according to the lawsuit. Other plaintiffs face similar conditions.