The potential damages against Stephanie Cliffords, known under her stage name as Stormy Daniels, were revealed on March 16 in a filing in a Los Angeles, California federal court, by Essential Consultants LLC, a company that was established by Donald Trump's personal attorney, Michael Cohen, in 2016 to arrange a $130,000 settlement to the porn star in exchange for her silence.
READ MORE: Stormy Daniels Willing to Pay Back $130K to 'Speak Openly' on Trump Affair
Daniels faces $1 million in damages for each violation of the "hush agreement," which she claims is invalid because Trump never signed it. Earlier this month, Daniels sued Trump over the "invalid" agreement in order to nullify it and avoid being dragged into arbitration proceedings by Cohen and speak openly about the alleged affair.
"The fact that a sitting president is pursuing over $20 million in bogus 'damages' against a private citizen, who is only trying to tell the public what really happened, is truly remarkable. We are not going away and we will not be intimidated by these threats," Michael Avenatti, Daniels's lawyer, said as cited by Bloomberg.
Crowdfunding Campaign to Battle Trump
In order to fund her legal fight against President Trump, the former porn star has launched a crowdfunding campaign via crowdjustice.com, having raised $188,850 in two days.
"I recently made an offer to return the $130,000 I was previously paid if it was agreed that I could simply tell the truth publicly. Mr. Trump and Mr. Cohen did not even bother to respond," she wrote on the crowdfunding page.
Daniels described her lawsuit as an attempt to "speak honestly and openly to the American people about her relationship with now President Donald Trump and the intimidation and tactics used against her."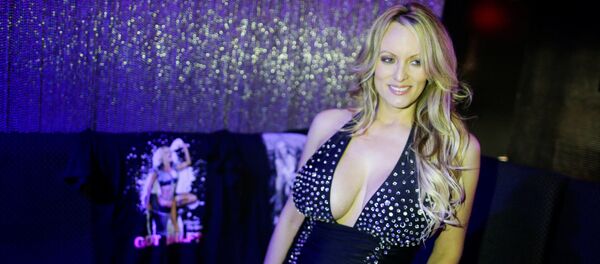 Earlier this week, Avenatti said that his client was physically threatened after she went public about her alleged relationship with Trump, although did not specify who the offenders were.
The White House and Donald Trump himself have repeatedly denied allegations regarding the 2006 affair. According to Daniels, she had a sexual relationship with Trump in 2006 and 2007. Trump's lawyer Michael Cohen paid her $130,000 in exchange for her silence in 2016, when several women went public with allegations of sexual misconduct against Trump. Cohen, for his part, said that he paid it himself through a company he set up in 2016; according to him, neither the Trump Campaign nor the Trump Organization were involved in the payoff.