"Pursuant to Department Order 1202, and based on the report of the Inspector General, the findings of the FBI Office of Professional Responsibility, and the recommendation of the Department's senior career official, I have terminated the employment of Andrew McCabe effective immediately," Sessions was quoted by Fox News as saying in a statement.
Jeff Sessions fired former FBI deputy director Andrew McCabe on Friday, just days before he was set to retire on Sunday and two days before his 50th birthday, local media reported.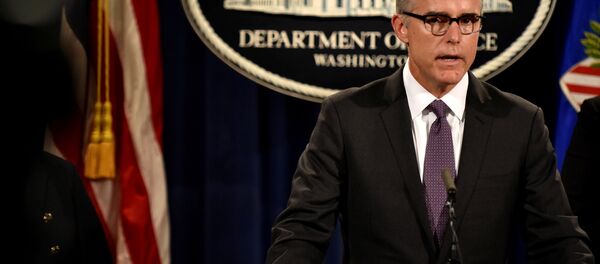 "I am being singled out and treated this way because of the role I played, the actions I took, and the events I witnessed in the aftermath of the firing of James Comey," McCabe was quoted as saying by Reuters.
"This attack on my credibility is one part of a larger effort… to taint the FBI, law enforcement, and intelligence professionals more generally," Mccabe added.
"It is part of this Administration's ongoing war on the FBI and the efforts of the Special Counsel investigation, which continue to this day," he wrote in a statement.
McCabe remained on the FBI payroll despite stepping down as its number two in January, after the Department of Justice reportedly found that he had lied about the agency's investigation into the Clinton Foundation. He accused the administration of seeking to destroy his reputation, stripping him of his pension that he had worked 21 years to earn, in an effort to deter Special Counsel Robert Mueller's probe into the alleged collusion between the Trump campaign and Russia during the 2016 US election.
Meanwhile, US President Donald Trump called the firing of former FBI deputy director Andrew McCabe a "great day for democracy" as he slammed the agency for being corrupt.
"Andrew McCabe FIRED, a great day for the hardworking men and women of the FBI — A great day for Democracy," Trump tweeted.
"Sanctimonious [former FBI director] James Comey was his boss and made McCabe look like a choirboy. He knew all about the lies and corruption going on at the highest levels of the FBI!" he added.