Preliminary results published by the Russian Central Election Commission (CEC) confirm that incumbent President Vladimir Putin is winning the race, receiving over 76 percent of processed votes.
This reflects the current President's soaring popularity among Russian voters, who showed up in significant numbers to cast their ballots.
READ MORE: LIVE UPDATES: Russians Cast Ballots in 2018 Presidential Election
Although Putin's victory is highly likely, the battle for second place remains a subject of speculation, with veteran politician Vladimir Zhirinovsky going neck and neck with Pavel Grudinin, a newcomer to the world of high Russian politics who was advanced by the Russian Communist Party (KPRF).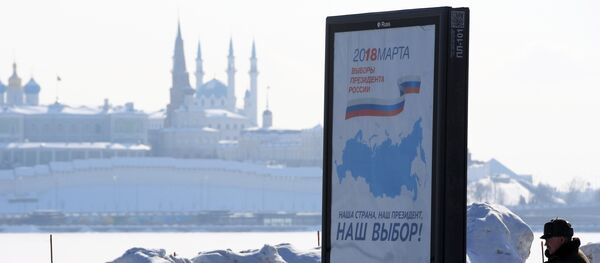 It seems that the KPRF's decision to present a fresh face has paid off, as exit polls compiled by the Public Opinion Foundation note that Grudinin is expected to secure about 12 percent, while Zhirinovsky may gain half that amount.
In a surprising turn of events another newcomer to presidential politics, former TV-personality Ksenia Sobchak, is set to surpass all other minor opposition figures, receiving just under 2 percent.
As a result, she has beaten long-term opposition politician Grigory Yavlinsky, who was supported by 1 percent of Russian voters, according to the preliminary data.
READMORE: Russian Election: 'Reaction of Int'l Community to Be Shaped by MSM' — Analyst
The left-wing candidate Maxim Suraykin, as well as academic Sergey Baburin and businessman Boris Titov, are not expected to cross the 1 percent threshold.
So far, the CEC has processed 21.33 percent of all ballots, and full results are expected to be published Monday.