"We actually have evidence, which we've collected over the past 10 years, that Russia not only worked on the development of nerve agents for the purpose of committing murder but also created and stored [the substance] "Novichok", British Foreign Secretary Boris Johnson said to the BBC.
According to Johnson, it will take at least 2 weeks for the OPCW laboratory to check the nerve agent samples. The OPCW will choose the laboratories itself. 
"The United Kingdom will give the Organization for the Prohibition of Chemical Weapons (OPCW) samples of the poisonous substance used in the Skripal case," said Boris Johnson in BBC prime time.
Experts from the OPCW will arrive in the United Kingdom on March 19 to carry out the investigation.
"This is not the response of a country that believes itself to be innocent"@BorisJohnson says Vladimir Chizhov's suggestion that the UK research laboratory Porton Down is the source of the nerve agent is "satirical" #marr pic.twitter.com/jMQeoLjUlw

— The Andrew Marr Show (@MarrShow) March 18, 2018
​"Independent investigators from the Organization for the Prohibition of Chemical Weapons (OPCW) will arrive in the UK tomorrow to kick off their investigation into the nerve agent used in the attempted asassinations of Mr Skripal and his daughter in Salisbury on 4 March," the UK Foreign Office statement said.
Boris Johnson has also expressed the UK's willingness to investigate the Skripal case in collaboration with Russia.
"London is ready to provide Moscow with access to the Skripal and Glushkov cases," the British Foreign Secretary said.
Johnson stated that Britain's National Security Council will meet this week to decide "what further measures, if any" the country will take.
READ MORE: Boris Johnson Slams Moscow's Response to Expulsion of Russian Diplomats From UK
UK-Russian relations have seriously deteriorated over the Salisbury incident where former Russian intelligence officer Sergei Skripal and his daughter were found unconscious in a shopping center. The British side maintains Russian involvement in the poisoning, using the nerve agent called "Novichok", while Moscow has refuted all the accusations.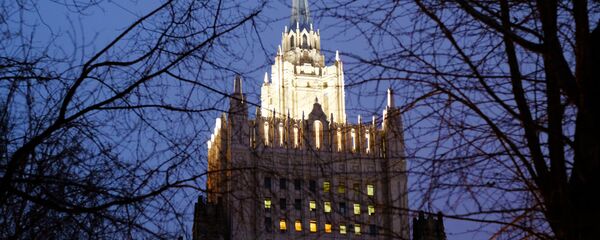 UK Prime Minister Theresa May stated that it was "highly likely" that Russia was responsible for the incident, since the two were poisoned with a Novichok-class chemical agent that was developed in the Soviet Union.
PM May went on to announce a package of anti-Russian measures, including the expulsion of 23 Russian diplomats from the country, and the suspension of bilateral contacts between London and Moscow.
The Russian Federation wasn't long in announcing reciprocal measures against the United Kingdom, declaring 23 employees of the UK Embassy in Moscow personae non gratae in response to London's move