New Delhi (Sputnik): A prominent Hindu fringe group in India is conducting a holy ritual offering of 50 tons of mango wood to the consecrated fire for nine-days in a row — all this aimed at "curbing pollution" in the country. Around 350 Hindu priests are performing the ritual that started on Sunday at the Bhainsali ground in Meerut city of the northern state of Uttar Pradesh.
READ MORE: India Limits Taj Mahal Tourists to 40,000 Per Day to Prevent Wear and Tear
Meerut: Shri Ayutchandi Mahayagya Samiti started a nine-day-long 'mahayagya' yesterday. They will burn 500 quintals of mango tree wood during this #Navratri period to 'curb pollution' pic.twitter.com/bxuxE5pnKp

— ANI UP (@ANINewsUP) March 19, 2018
A civil rights activist, who is not in favor of promoting unscientific behavior among citizens, says the Uttar Pradesh authorities are not taking action because the organization conducting the ritual enjoys political patronage.
"The constitution of India clearly lays down that the elected government should promote the scientific temper in the society and any activity or opinion that tries to establish unscientific practices must be discouraged. In this case, the government is acting against the constitution of India. Not just this, a lawmaker of the Modi government is a leader where another such Yagya is happening in Delhi, which is supposedly for the defense requirements of the country. This is just ridiculous but real," Arvind Murti, a civil rights activist who hails from Uttar Pradesh, told Sputnik.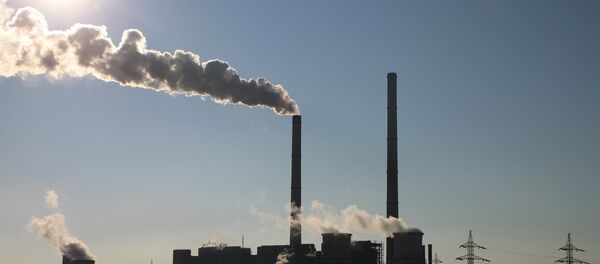 21 October 2017, 23:56 GMT
The event is reportedly being organized by members of Shri Ayutchandi Mahayagya Samiti, which has constructed 108 fire pits at the 125 square foot area for priests to perform the "Mahayagya" the Times of India (TOI) reported. Mahayagya is a traditional Hindu practice in India which involves offerings of various kinds made to a holy fire.
"Mango wood burnt after pouring pure ghee (cooking oil derived from cow's milk) does not cause pollution. We are also adding sesame seeds, rice and barley to aid the purification process. According to a scientific report, the Ozone layer above our country is the least damaged because of frequent yagyas (offerings to the fire)," Gyanendra Agarwal, president of the organization conducting the ritual told the TOI.
The Uttar Pradesh Pollution Control Board (UPPCB) — the nodal agency responsible for checking acts of violation of pollution norms in the state — has reportedly refused to intervene.
READ MORE: New Delhi Arms Itself With Anti-Smog Guns to Combat Lethal Pollution
"Burning such large quantities of wood will definitely cause pollution. But there is no policy under which a probe can be issued in this matter, so there is little that we can do. It will also be inappropriate for me to comment on the event," R. K. Tyagi, a regional officer of the UPPCB was quoted by the TOI as saying.
During a Mahayagya — priests of all ages wearing saffron robes belonging to the upper-caste Brahmin community sit around the fire pit and chant Hindu hymns and prayers while offering firewood and other ingredients to the consecrated fire. Such rituals are often performed to please the gods in an attempt to avert ill-fate and calamity.