Negotiators from the UK and EU have agreed a draft Brexit treaty which outlines the terms of the transition period, in addition to other matters.
EU negotiator Michel Barnier praised the British team of negotiators for "their commitment and competence", and presented a color-coded draft of the agreement.
"It is an international agreement between the United Kingdom and the European Union. An international agreement… we all need precision, and legal certainty which pertains to any such international agreement. And what we're presenting to you today is a legal text, a joint legal text which constitutes, in my mind, a decisive text, because we were able this morning to agree, and after all those days and nights of hard work, on a large part of what will make up an international agreement for the ordered withdrawal of the United Kingdom," he said.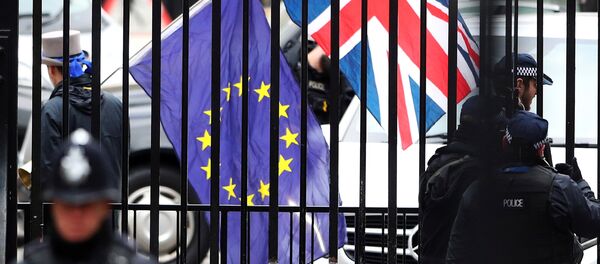 Barnier went on to describe today's agreement as a decisive step, but warned that "we're not at the end of the road" and added that there is a lot of "important work to be done" on the Irish border.
He confirmed that this "decisive step" will be presented on March 23 to the European Council by him, President of the European Council Donald Tusk and President of the European Commission Jean-Claude Juncker. He also added that the UK's transition period with the EU will end on December 31, 2020.
Barnier said that he will be meeting "the Brexit steering group" of the European Parliament tomorrow.
"It is the European council on Friday who will assess and judge the state of the negotiation and, as far as I'm concerned, I shall continue to meet you regularly and report to you on these negotiations in full transparency."
"Member states are rather satisfied. We are still waiting for Ireland's reaction. Ireland will be discussed further, there is partial convergence of views," an unnamed diplomat was quoted as saying by the Reuters news agency earlier.
The diplomat also said a "broad agreement" on the Irish border has been reached, although there are some details which still need to be finalized, and added that "final texts" have been negotiated and agreed regarding the rights of expatriates and the UK's financial settlement to the union.
These comments were made after EU negotiators and envoys from member states met this morning for talks.
READ MORE: Irish Border Issue Could Complicate Brexit Negotiations — Analyst
After meeting with Chief EU negotiator Michel Barnier in Brussels, Irish Foreign Affairs Minister Simon Coveney described Brexit talks as "moving forward" via a tweet posted on his official account.
The UK voted to leave the EU via a nationwide referendum in mid-2016, and is scheduled to formally exit the union in late March, 2019, exactly two years after the government invoked article 50.