The polling station 8274 in the building of the Russian Consulate General in New York worked from 8 a.m. to 8 p.m. local time (noon to midnight GMT). Voting in New York was also held at a polling station in Brooklyn, in the Brighton Beach area, home to many natives of Russia.
This venue finished work at 6 p.m. local time, and the ballots were sent to the diplomatic mission in Manhattan. The final protocol signed by the commission with the results of voting will be sent to Russian Foreign Ministry.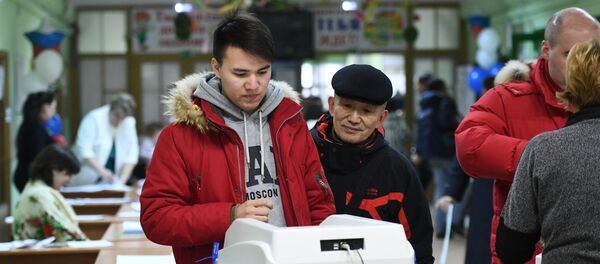 Meanwhile, Russian Foreign Ministry spokeswoman Maria Zakharova noted earlier an
unprecedented turnout
in the Russian presidential election at polling locations organized abroad.
"I would just like to report that there is just an unprecedented turnout in our foreign missions. Naturally, these are not foreign institutions, these are election commissions that are formed in our embassies and consulates," Zakharova said on air of the Rossiya 1 broadcaster.
Vladimir Putin is leading in the Russian presidential election with 76.6 percent of the vote as information from 97 percent of ballots processed, according to the preliminary data of the Russian Central Election Commission.