According to the center's commander Maj. Gen. Yuri Yevtushenko, a resident of Eastern Ghouta called the center's "hotline" on Monday to report that Nusra Front* militants had installed on a roof of a building and tested a turbine, placing tightly sealed containers with poisonous substances nearby.
"The caller said he believed that terrorists can use these preparations to disperse toxic substances in residential areas, which will lead to a large number of casualties among the local residents. The mass poisoning of civilians will be used to accuse the government troops of the use of chemical weapons against peaceful citizens," Yevtushenko stressed.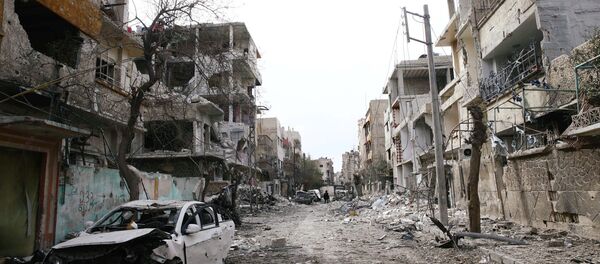 Yevtushenko also reported that about 80,000 people have been
evacuated
from the Damascus suburb since the start of the humanitarian operation supported by the Russian military on February 28.
"A total of 79,700 people, mostly children, have been evacuated from Eastern Ghouta with assistance of the Russian Center for Syrian reconciliation since the beginning of the humanitarian operation. Their lives are not in danger," Maj. Gen. Yuri Yevtushenko said in a daily briefing.
* a terrorist group banned in Russia