According to the reports, the Boko Haram terrorists on Wednesday dropped 100 girls that had been abducted from the Government Science and Technical College in the town of Dapchi.
The Nigerian Ministry of Information and Culture said earlier on Wednesday that 76 of 110 girls had been freed.
"The directive by President Muhammadu Buhari to all security agencies to do everything possible to secure the release of the Dapchi schoolgirls, who were abducted 19 Feb. 2018, has yielded fruits, with the confirmed release of 76 of the 110 abducted students in the early hours of Wednesday," the ministry wrote on Facebook.
According to the Minister of Information and Culture Alhaji Lai Mohammed, the process of securing the release of the rest of the abducted students is ongoing.
"The girls were released around 3 a.m. [11:50 GMT] through back-channel efforts and with the help of some friends of the country, and… it was unconditional," the minister said as quoted in the statement.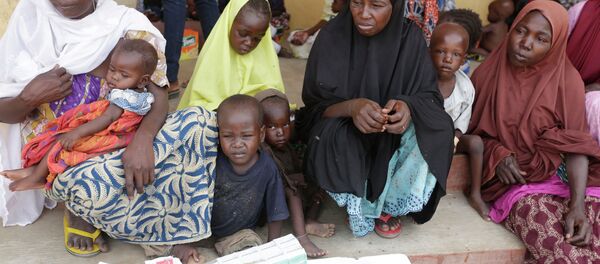 23 February 2018, 05:35 GMT
Earlier in the day, the local Daily Post newspaper reported that Boko Haram had released several girls and that five of the girls may have died while in the custody of the militants.
On February 19, Boko Haram attacked Government Girls Technical College in the country's northeastern Yobe state. After the incident over 100 girls went missing.
READ MORE: World Food Programme Turns Food Into a Weapon of Peace and Reconciliation
Nigeria has been repeatedly plagued by suicide bombing attacks and kidnappings by the Islamist terror group Boko Haram, which has pledged allegiance to the Islamic State (IS, terrorist group banned in Russia). Along with Nigeria, Niger, Cameroon, and Chad are also engaged in military operations combating Boko Haram.