"Militants delivered a rocket strike at the Kashkoum market in the Jaramana district in the Damascus province at 18:15 local time [16:15 GMT] on Tuesday. As a result, 37 people were killed and another 35 were wounded," center's commander Maj. Gen. Yuri Yevtushenko said in a daily briefing.
In addition, two mortar attacks on the Mezzeh district of Damascus killed five civilians and wounded two, Yevtushenko said.
Meanwhile, since the launch of humanitarian pauses in Damascus' suburb of Eastern Ghouta 80,414 people left the rebel-held enclave, the Russian Center for Syrian reconciliation said.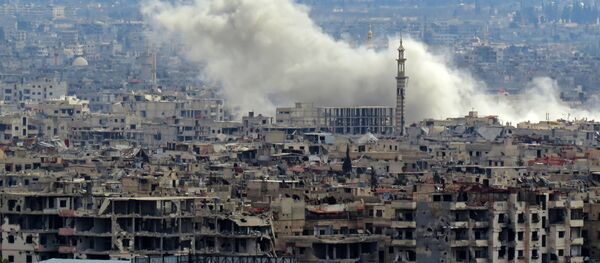 According to Yevtushenko, 552 people left Eastern Ghouta through the Muhayam Al-Wafedin checkpoint on Tuesday. He also said that only 128 people left on Tuesday Eastern Ghouta through the humanitarian corridor from settlements of Arbil, Saqba and Hazeh. The official noted that the corridor had been shelled by militants.
"Since the launch of 'humanitarian pauses' in Eastern Ghouta, 80,414 people left Eastern Ghouta with the assistance of the Russian Center for Syrian reconciliation," Yevtushenko said on late Tuesday.
Earlier on Tuesday, Russian Defense Minister Sergei Shoigu said that 65 percent of the enclave had been liberated by the Syrian government's troops.
The situation in Eastern Ghouta has been tense over the past weeks. Local militants continue shelling Damascus, also receiving fire from the Syrian pro-government forces. Damascus says it opens fire in response to shelling from Eastern Ghouta while the Western countries are accusing the Syrian government and Russia of being responsible for the escalation of tensions in the area.