"[Drawing] parallels and [making] comparisons between our country, that gave millions of lives in the fight against Nazism, that fought against the enemies on its territory and then liberated Europe, are unacceptable in principle and are not worthy of the head of the diplomatic department of a European state," Russian Foreign Ministry spokeswoman Maria Zakharova wrote on Facebook.
"If there is no clarity regarding Skripals' poisoning, it's because of the UK's refusal to provide information. Boris Johnson's case is different: it's obvious that he's poisoned by hatred, anger unprofessionalism and boorishness," she added.
During his speech, Johnson also said he agreed with a Labour member of parliament who compared the FIFA 2018 World Cup in Russia to Adolf Hitler's 1936 Olympics, which he used to promote his regime.
Commenting on the scandal over the Skripal scandal, Johnson described the Salisbury attack as a sign from the Russian state to other potential defectors. He went on to say that Moscow chose the United Kingdom for the chemical attack because London had "called out Russia over its abuses" in the past.
The Foreign Secretary also noted that the timing of the alleged poisoning was linked to the elections in Russia.
"And as many non-democratic figures do when facing an election or facing some critical political moment, it is often attractive to conjure up in the public imagination the notion of an enemy," he said, adding that President Putin seeks to cause troubles wherever he can.
The foreign secretary also noted that London-Moscow ties will remain tense for a while, but said that dialogue between the two states should continue.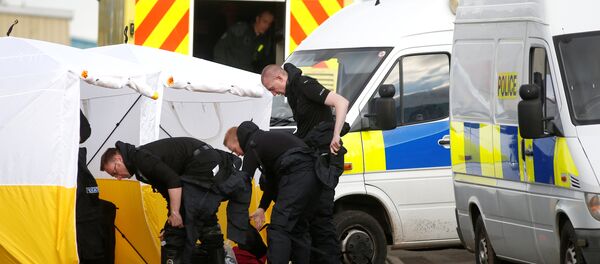 The speech comes in wake of statements made earlier on Wednesday on the Skripal case by representatives of the Russian Foreign Ministry and the Russian Defense Ministry. Vladimir Ermakov, the head of the non-proliferation and arms control department at the defense ministry, said: "either the British authorities are unable to protect from a terrorist attack on their territory or staged the attack themselves."
Ermakov also noted that Moscow is "shocked by statements made by UK politicians," adding that it seeks common understanding with London on the Skripal case; however, UK authorities show no such approach, he pointed out.
On Tuesday, Russian diplomats with their families left the UK, as British Prime Minister Theresa May announced a batch of anti-Russia measures following her speech, where she said that Moscow was "highly likely" behind the poisoning of ex-Russian intelligence officer Sergei Skripal. Both states expelled 23 of each other's diplomats over the Skripal scandal.
The Russian Foreign Ministry denied all the allegations and requested the UK to allow a joint investigation into the case.