The shooting occurred in the morning in one of the schools in the small city of Shadrinsk in Russia's Kurgan region after a 13-year-old schoolgirl brought along an air gun to classes.
READ MORE: WATCH Video From Scene of Axe Attack in Russian School
None of the children were serious injured, they got medical assistance on the scene.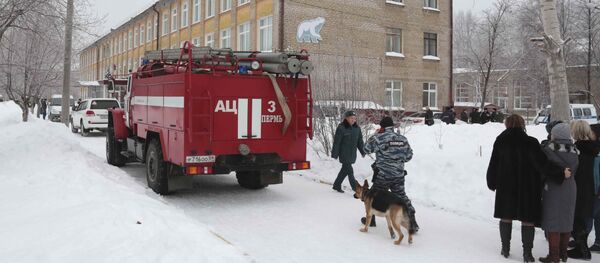 16 January 2018, 19:36 GMT
According to the investigators, the pneumatic gun used by the girl belongs to her father, although the reasons for her action are still unclear. The probe into the incident is still underway. Police say that the young shooter has no previous police record and is not registered with the police juvenile delinquents' department.
This is not the first incident of this kind in Russian schools this year. In January, 15 people were stabbed in a brutal knifing attack in the Russian city of Perm, perpetrated by two teens. A few days later, a ninth-grade student attacked seventh-graders with an axe at a school in Ulan Ude in the Buryatia region, and then threw a Molotov cocktail into a classroom and started a fire, injuring five.