Hardline Islamist militants fired a barrage of rockets containing cluster munitions at Damascus this afternoon, according to emerging reports.
The Syrian Arab News Agency (SANA), citing the city's police command, reported that two civilians were killed, while another nine suffered injuries.
Images of the attack circulating on social media appear to show that incendiary munitions were also used in this latest wave of shelling against government-held parts of the capital.
The terrorists in #EastGhouta are shelling #Damascus with Grad missiles equipped with cluster munitions.
Last image is the aftermath for the missile empty casement after it hit the ground. pic.twitter.com/26PedQE7Or

— Wael (@WaelAlRussi) March 22, 2018
Due to the intensified shelling campaign, thousands of Damascenes have fled to Syria's coastal region in recent weeks.
READ MORE: Thousands of Syrians Flee Damascus Due to Intense Militant Shelling
Earlier today, it was reported that some 1,500 militants will be evacuated from the Damascus suburb of Harasta – which is contained within east Ghouta – to the northwestern province of Idlib, which shares a border with Turkey.  
"According to the agreements, over 6,000 people, including 1,500 militants, are expected to be evacuated today. Buses and ambulances have been prepared for the evacuation," a source reported.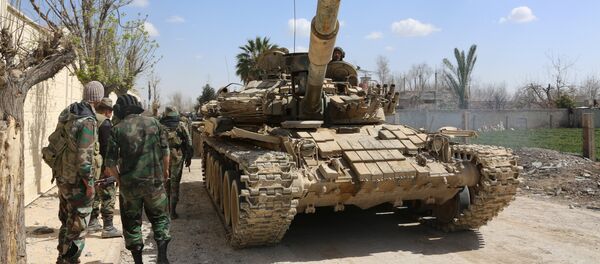 Since launching operation Damascus Steel last month, elite units from the Syrian Army have liberated over 70 percent of the east Ghouta pocket, and are continuing to advance on remaining militant-held areas.
Tens of thousands of locals who were trapped by militants in east Ghouta have been freed and are currently residing in makeshift temporary accommodation while they wait for the Syrian government to resettle them.