Former Aerospace Forces Commander and Russian Senate Defense Committee Chairman Viktor Bondarev says it would take at least 500 American anti-missile missiles to intercept a single Sarmat ICBM.
"This is the conclusion reached by Western experts," he said, speaking to RIA Novosti on Thursday.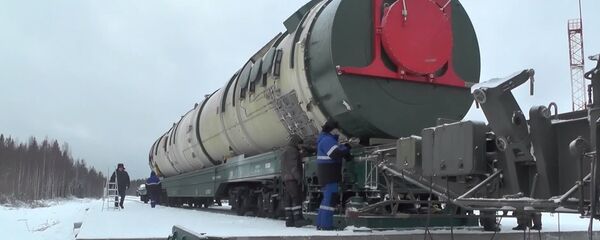 "The Kinzhal [air-launched hypersonic maneuverable missile system] is also invulnerable to enemy systems, and guaranteed to hit any target," the senior officer added.
During a telephone conversation with President Putin earlier this week, US President Donald Trump voiced his concerns over Russia's creation and deployment of ultra-long range cruise missiles and nuclear torpedoes capable of defeating US missile defense systems. Also this week, the head of US Strategic Command admitted to lawmakers that the US military had no means of stopping Russia's new strategic weapons.
The RS-28 Sarmat, NATO reporting name SS-X-32 Snowflake, is a liquid-fueled, MIRV-equipped, super-heavy thermonuclear armed ICBM. The missile is reportedly capable of carrying between 10 and 24 independently targetable reentry vehicles, with a reported total throw weight of 10,000 kg. The missile has an estimated range of 10,900 km, and is capable of reaching its strike destination via both the North and South Poles.
President Putin commented on the readiness status of the Sarmat and other weapons in a speech to lawmakers on March 1. The new weapons are designed to serve as an asymmetric response to US missile defense, as well as the deployment of US and NATO forces on Russia's borders. Moscow intentionally leaked information about Sarmat in 2007 in an effort to dissuade the US from pursuing its ambitions of creating a global missile defense system.