The National Crime Agency revealed details of the operation on Thursday, March 22, and said the Nigerian gang was known as the Eiye Confraternity.
Police in Spain began investigating the network, who had members in Britain, after a victim escaped from their clutches and revealed details of how they were operating out of cave-like houses in a remote corner of Spain.
They conducted a number of raids in Spain in November last year and a Nigerian woman was arrested in Middleton, Manchester, in January.
Women Trafficked to Spain Via Libya
A total of 39 Nigerian women and girls, many of them only teenagers, have now been rescued by the authorities but it is feared others may have died during the journey to Spain, which was made by boat via Libya and Italy.
The victims underwent black magic rituals, known as juju, in Nigeria to coerce them into obeying orders from the gang's leaders.
Once they were in Spain they were forced to live in unsafe and unsanitary conditions in dwellings which were little more than caves.
Their bodies were sold for sex and all the money ended up in the hands of the Eiye Confraternity leaders in Nigeria.
Hawala System Used to Launder Money
The money was laundered through the hawala system, which is increasingly popular with organized crime gangs who do not want to go through official banks.
The women were charged around 30,000 euros each for the journey to Europe but it appears none were able to pay their way out of what was effectively sexual slavery.
The Spanish Guardia Civil led the operation but were supported by the National Crime Agency in Britain and Nigeria's own National Agency for the Prohibition of Trafficking in Persons (NAPTIP).
Eighty-nine people, including the alleged leader of the Eiye Confraternity, have been arrested on suspicion of association to criminal organisations, modern slavery and money laundering.
© Photo : National Crime Agency
A woman was arrested in the Middleton area of Manchester and will be extradited to Spain for trial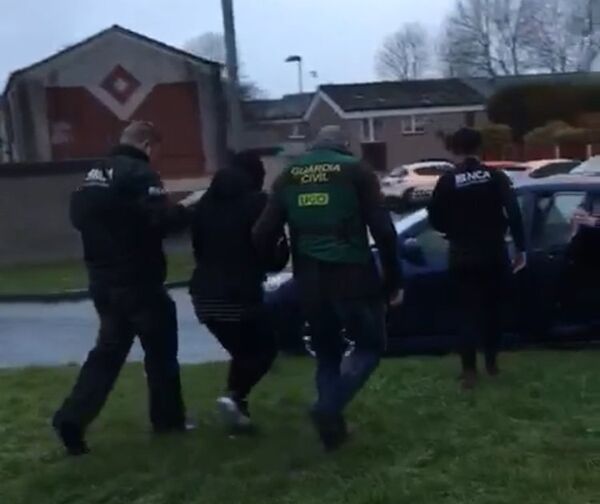 A woman was arrested in the Middleton area of Manchester and will be extradited to Spain for trial
© Photo : National Crime Agency
A Nigerian woman who was arrested in Manchester is awaiting extradition for trial in Spain. She allegedly controlled some of the victims and paid money to Eiye Confraternity's leader in Nigeria.
"This was a complex and extensive operation with deep-rooted organisation both in Nigeria and Spain," said the National Crime Agency's Deputy Director Tom Dowdall.
"Eiye Confraternity was a highly organised crime gang, exploiting young woman for lengthy periods of time, keeping them in horrendous conditions where they knew there would be no escape," he added.
"The NCA's international reach was crucial to this success, and we will continue to work with agencies in Nigeria and Spain to bring those responsible through the court system. Modern slavery remains a priority for UK law enforcement," he added.
The Supreme Eiye Confraternity is understood to be a secret society originally formed in 1965 in the city of Ibadan in northern Nigeria.
Juju — a form of voodoo — is a black magic ritual which is widely believed to be a powerful force in Nigeria and other parts of Africa.
Juju Link to Murder of Nigerian Boy in London in 2001
In 2001 the torso of a young Nigerian boy was discovered in the river Thames in London.
The child, who was dubbed Adam by police, has never been formally identified but is thought to have been sacrificed as part of a juju ritual.
In 2011 Anthony Harrison, 32, was jailed for trafficking two Nigerian girls who had been controlled by juju rituals in the first case of its kind in Europe.
Harrison imprisoned the girls — aged 14 and 16 — at his east London home before attempting to traffic them to Spain and Greece as prostitutes.
The girls came from villages in Edo, Nigeria, and were sold into prostitution with the help of the local juju priest.