According to the Daily Mail, the officer who has been probing the alleged nerve gas attack is being treated in hospital as an outpatient. The symptoms include skin irritation.
"The second officer is showing potential signs of poisoning but they are very minor and not at all on the same scale as DS Bailey and the Skripals," an unnamed source said to the Daily Mail, adding that it was unclear how the officer became ill.
"It is possible that he came into contact accidentally with an object that could have had some secondary contamination," the source added.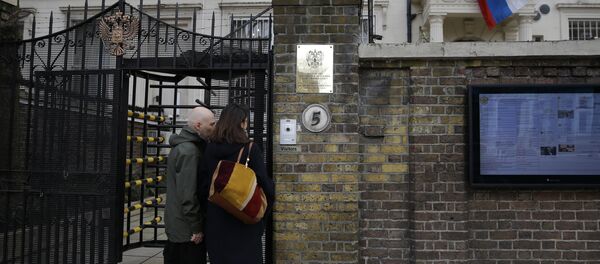 Another officer, Nick Bailey, who was exposed to the nerve agent on the day of the incident, was discharged from the hospital on Thursday. Skripals remain in critical condition as they fight for their lives in the hospital, the source added.
The poisoning of Sergei Skripal, who worked for UK intelligence, and his daughter in the United Kingdom, has resulted in a rapid deterioration of Moscow-London ties. UK Prime Minister Theresa May has blamed Russia for staging the attack against Skripal. The Russian side has called the accusations baseless and requested samples of the nerve agent that was used in the poisoning.
READ MORE: Germany, France Reject UK-Proposed Russia Sanctions Over Skripal Case – Source
Both countries expelled 23 of each other's diplomats over the alleged poisoning attack.