The Dow Jones Industrial Average sunk 2.93 percent (723 points) and the S&P 500 Index shed 2.42 percent (70 points) at the close of trading on Thursday. The Dow's daily slump was the biggest decrease since early February.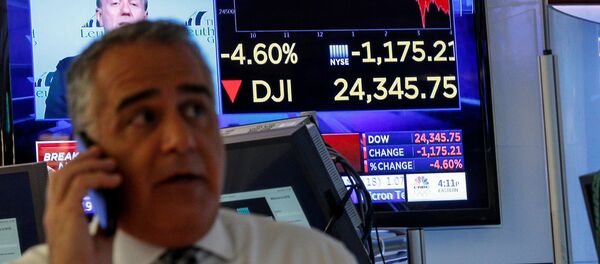 7 February 2018, 04:16 GMT
"The market doesn't like trade wars, the market doesn't like that the Fed is adamant about raising rates," Matt Schreiber, president of WBI Investments, told Bloomberg.
Equity markets worldwide slumped. Japan's Nikkei 225 was the lone outlier, jumping 1 percent, or about 211 points.
Trump's tariffs align with his criticism of US trade deficits, which have ballooned over the past 30 years. Trump said the tariffs would be the "first of many" actions, stoking concerns about a tit-for-tat trade war. 
While the administration has not specified which goods will be taxed specifically, US Trade Representative Robert Lighthizer said the policy would apply to "appropriate products" to strike back at China's "policy of forced technology transfer" and cybercrime, Investor's Business Daily noted.
"It will make us a much stronger, much richer nation," Trump said Thursday. A senior administration official told Sputnik News the anti-China package was "designed to offset the gains that the Chinese have received through their unfair practices."