The Arabic-language al-Manar news outlet, citing sources affiliated with the Syrian government's armed opposition, reported that Daesh has resumed training children for its deadly operations in the Deir ez-Zor province, allegedly protected by the US and the Syrian Democratic Forces (SDF). Daesh is reportedly preparing to attack the Syrian army after the US-backed SDF declared an end to operations against the terrorist group, and following the US military expanding its presence in the region.
READ MORE: US Building New Base in Oil Rich Area in Syria's Deir ez-Zor Province — Reports
The terrorist group has allegedly established a military base in order to train what it described as "The Caliphate's Lion Cubs" in Syria's Deir ez-Zor province, adjacent to Iraq, Arab media reported. The training center for child soldiers has allegedly been set up under the supervision of the former commander of Daesh bases in Raqqa, Abu Mohammed al-Fransi; the group is said to have been recruiting a large number of Syrian and foreign children to conduct suicide operations.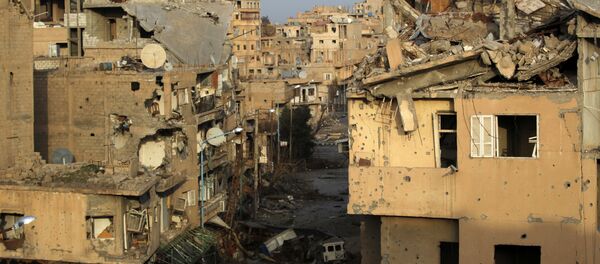 Recently, the Syrian government accused Washington of providing support for Daesh and other terrorist groups in the country, including intelligence allowing the militants to attack Syrian army positions. Syrian state media, such as the SANA news agency, have also repeatedly reported that US helicopters evacuated Daesh jihadists from several areas across Deir ez-Zor, with wounded militants allegedly being sent to receive medical assistance from Medecins Sans Frontieres doctors.
According to Damascus, US air power has purportedly been used on numerous occasions to rescue terrorist leaders from elimination at the hands of the government army, and even to stage "accidental" attacks on Syrian troops as they advanced against the terrorists.
READ MORE: Two Killed, Nine Injured in 'Cluster Bomb' Terror Attack on Syria's Damascus
The US-led anti-Daesh coalition kicked off its campaign in Syria in 2014 without a UN mandate or the country's government's consent. Damascus has repeatedly denounced the offensive as a violation of its sovereignty, reiterating that Washington and its allies were never invited into the country by the internationally recognized government of President Bashar al-Assad.
*also known as ISIS/ISIL/IS, a terrorist group banned in Russia