Sputnik: What are your thoughts on the presidential election in Russia?
Leszek Miller: The overwhelming majority of Russians who came to vote, voted for Vladimir Putin because he is a symbol of security and stability for them, which they value very much. This is also a positive assessment of the current economic policy, because from what I see, inflation is low, at 2 percent. I also see that the internal financial structure of the Russian Federation is changing; as we know, in 2014, half of the funds coming into the budget were from the sales of oil and gas, and today this figure is only 25 percent. But there are other factors that were crucial, but I am not familiar with them, since I am Polish and not Russian.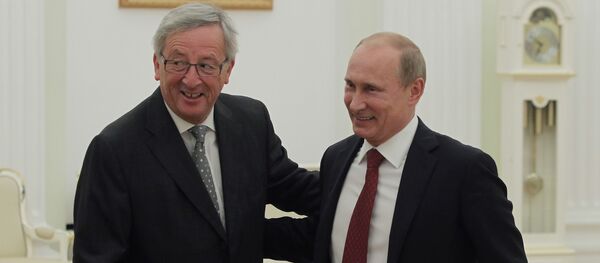 Sputnik: Mr. Miller, we also learned from the head of the Cabinet of the President of the Republic of Poland, Krzysztof Szczerski, that President Andrzej Duda will not congratulate Vladimir Putin. Why?
Leszek Miller: This should not surprise anyone, since the Polish authorities are hostile towards the Russian authorities, which is very different from what  French President Emmanuel Macron and the chancellor of Germany have already done, who sent congratulatory telegrams.
Sputnik: Even the head of the European Commission Junker has already congratulated President Putin…
Leszek Miller: That's right. Thus, on Andrzej Duda's part, this is a kind of demonstration, not a very clever one, since the usual respect for your neighbor, the neighboring state, requires one to send a message of congratulation.
Sputnik: We have also learned that President Duda will not be present, as a representative of Poland, at the 2018 World Cup in Russia.
Leszek Miller: The most important thing is that the 11 representatives of Poland will attend the World Cup games, which, I hope, will give us a lot of emotions, as I'm counting on our national team to achieve some success. Naturally, it would be best if we obtained the title of champion. Of course, we will be supporting  our national team from Poland.
Sputnik: Mr. Miller maybe you too, will you come to Moscow to personally support the Poles?         
Leszek Miller: I'm generally against using sports to achieve political goals or policies, since I believe that these two areas of our lives should be separated from each other. I remember the times when Olympic Games were boycotted, I also remember athletes who, instead of taking part in Olympic competitions, stayed at home, as politicians believed that such political demonstrations should be organized.
Sputnik: The Polish newspaper "Dziennik Gazeta Prawna" published an interview with Deputy Foreign Minister Bartosz Cichocki, who told the public that Poland "is giving the Russians their last chance," and this is Deputy Foreign Minister talking. What's your take on this?
Leszek Miller: This is difficult to comment on, I have said many times, and I repeat it once again that Russophobia is the official doctrine of the Polish state. Those forces that currently are in power in Poland are based on Russophobia, which is presented in different forms. This will continue for exactly as long as these forces will govern in Poland.