The ministry planned to make its 2018 Eurobond issue instrumental in helping Russian business people bring their money back home.
Siluanov said that even though domestic investors had been given a priority right to buy the bonds, their demand did not exceed $250 million.
"It can't be ruled out that the actual number of Russian investors could be bigger as their acquisitions could be found in the share of British investors," Siluanov told Bloomberg.
On March 16, the Russian Finance Ministry placed 1.5 billion dollars' worth of Russia-29 Eurobonds with 4.6 percent annual interest and 2.5 billion dollars' worth of Rossiya-47 Eurobonds with 5.25 percent annual interest.
Nearly 170 investors (39%) most of them from Britain, bought in, along with those from the US (25%) and Russia (22%).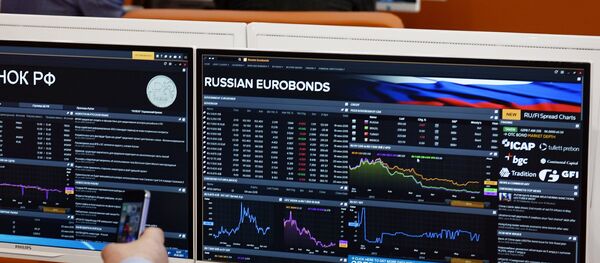 The share of investors from continental Europe and Asia was 14 percent.
With the overall demand having exceeded $7 billion, a large number of potential buyers were unable to invest in Russian securities.
According to Yekaterina Novikova, a senior economist with the Plekhanov Institute in Moscow, the high investor interest in Russian Eurobonds belies widespread reports about serious problems facing the Russian economy as a result of Western sanctions.
"Investors vote with their own money and the large number of people willing to buy Russian bonds means that Russia's market offers higher profits compared with other markets," Novikova told Sputnik.
She added that with the implementation of social and economic reforms and clever investments, the share of added value in various fields of commodity production and services will be high, including as a result of the policy of import phase-out.
"The economic situation in Russia is more stable than that of the other economically developed countries whose debt obligations exceed their annual GDP growth, Novikova noted.
She also emphasized that by maintaining its current sanctions against Russia, the West would be acting to the detriment of its own investors.

According to Chris Weafer, a senior partner at Macro-Advisory Ltd, Moscow, the price at which Russia's recent Eurobonds were sold, is consistent with the current valuation of existing Russian debt.
"As political relations with the US and UK continue to deteriorate, Russia's financial position grows stronger. Russia has the world's sixth lowest level of national debt and the world's sixth highest financial reserves. The value of Russia's financial reserves has increased by $75 billion since the start of 2017," Weafer told Sputnik.
"This means that investors see Russia as financially very safe and is one of the best investment risks amongst all emerging economies," he added.
Reflecting this general view, the rating agency Standard & Poor's recently upgraded Russia's sovereign risk to investment grade.
READ MORE: Russia to Issue Special Eurobonds to Boost Capital Return — Finance Minister
In December 2017, President Vladimir Putin suggested issuing special foreign-currency bonds to help Russia's richest safely and anonymously repatriate capital to shield it from a possible tightening of Western sanctions.
The views expressed in this article are solely those of the speaker and do not necessarily reflect the official position of Sputnik.