"The army is in control of Ein Tarma and Harasta, resistance in Jobar and Irbin has ended. Militants have retained their hold on Duma," the source said.
Earlier, after liberating the settlements of Saqba and Kafr Batna, Syrian Armed Forces started the offensive against the fortified positions of the terrorists on the southern outskirts of Ein Tarma.
A syrian officer reported that newly arrived units give assault squads an opportunity to continue the offensive in the near future by gaining a foothold in new positions.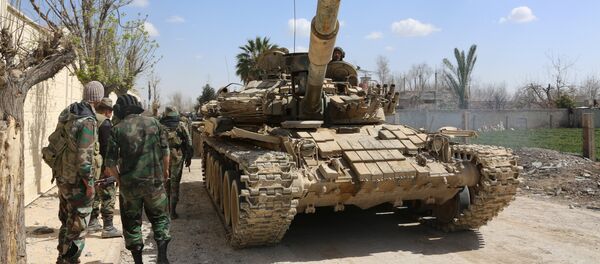 Recently, the Syrian army command announced that its troops have liberated from terrorists 70 percent of the territory of the Damascus suburb. Eastern Ghouta was occupied by anti-government Islamist extremists in 2012, but the Syrian troops have reportedly liberated more than half of the area since then.
On February 24, the UN Security Council unanimously adopted Resolution 2401 that urges all parties to the conflict to immediately stop hostilities to ensure the safe delivery of humanitarian aid supplies and the medical evacuation of injured people. The ceasefire regime does not apply to military operations against terrorist groups. Despite the adopted resolution, clashes in the area continued. With militants targeting all exits from the enclave, civilians cannot leave the area safely.