In a video shown to Ukrainian MPs on Thursday, Verhovna Rada deputy Nadezhda Savchenko is seen discussing a planned coup and the assassination of several senior politicians, including President Petro Poroshenko.
The 28-minute video, posed on the Ukrainian prosecutor General's YouTube channel, also shows Savchenko talking to the head of the Officers' Corps prisoner release center Vladimir Ruban arrested on charges of attempting to kill Poroshenko, and of illegal gun possession.
"I propose a coup. That's why they've got to be eliminated, all of them and all at once," Savchenko says.
"I don't care about government offices; it is their private quarters I'm thinking about. I think they will all start running when they will have nowhere to come back to," she continues.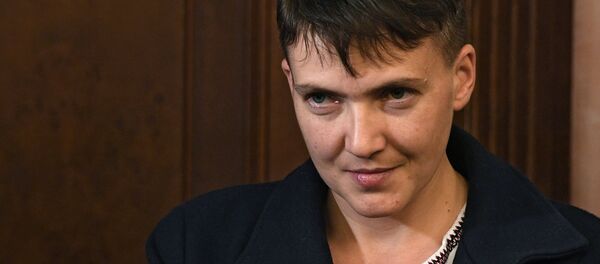 On March 17, Savchenko said that there are "more than enough" military men in Ukraine ready to take part in a coup. Two days before that she was ordered out of the parliament building for bringing in three hand grenades and a pistol.
Nadezhda Savchenko was later arrested by the Ukrainian Security Service inside parliament moments after she was stripped her of parliamentary immunity.
In Moscow, Foreign Ministry spokeswoman Maria Zakharova said she was surprised by the West's mild response to Savchenko's detention with the OSCE's Office for Democratic Institutions and Human Rights (ODIHR) only saying that they were "keeping an eye on the situation."
Zakharova also mentioned the complete lack of a response from the European Union, the Parliamentary Assembly of the Council of Europe and the Human Rights Council.
"Most importantly, as soon as they are through with "keeping an eye" on the situation and realize that their idol is under arrest, I hope they don't mistake the Ukrainian Foreign Ministry with ours and do not send us a note of protest. Let me remind our Western colleagues of their very own #freesavchenko hashtag. I guess they could put it to good use," Zakharova wrote on Facebook.
Nadezhda Savchenko became famous in Ukraine and in the West after she was detained in Russia on charges of being an accessory to the 2014 killing of two Russian journalists in a mortar attack while they were reporting on the armed conflict in Donbass.
Following her arrest in Russia, Savchenko was immediately hailed as a hero in Ukraine and elected to parliament in absentia. She was also lionized in the West as a hero prosecuted by Russia.
READ MORE: Savchenko Announces Meeting With 6 Ukrainian Prisoners of War in Donbass
In May 2016, Savchenko was pardoned by President Vladimir Putin and returned to Ukraine where she was accorded a hero's welcome.
Before very long, however, she became a fierce critic of President Poroshenko and started acting independently, trying to make a deal with the self-proclaimed Donetsk and Lugansk people's Republics in eastern Ukraine.