Alongside the multitudes, students from Stoneman Douglas marched in downtown Washington Saturday to urge Congress to enact stricter gun gun control legislation. An estimated 800 sister rallies are simultaneously taking place in other US cities, including Philadelphia, New York, Chicago and Los Angeles, to spread the message that inaction by federal lawmakers in response to gun violence will no longer be tolerated.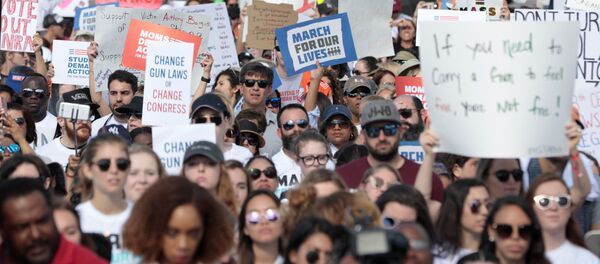 "To the leaders, skeptics and cynics who told us to sit down, stay silent and wait your turn: welcome to the revolution," said Cameron Kasky, a Stoneman Douglas High student, to a large crowd in downtown DC. "Either represent the people or get out. Stand for us or beware. The voters are coming."
In addition to 20 student speakers, multiple celebrities including Ariana Grande, Common, Miley Cyrus, Jennifer Hudson, Vic Mensa, Lin-Manuel Miranda and Ben Platt, are expected to participate at the nation's capital Saturday. Authorities in Washington DC have taken extensive security measures, the Washington Post reported.
"To be honest, I'm scared to march," Stoneman Douglas senior Carly Novell said on Twitter Saturday morning.
"This is a march against gun violence, and I am scared there will be gun violence on the march. This is just my mind-set living in this country now, but this is why we need to march."
"This future teacher will never carry a gun," one sign, held near the base of the US Capitol, read. "My job is to teach, not return fire," another said.
The protest comes only a few days after a shooting at Great Hills High School in southern Maryland, saw two students killed.
"What better place to demand that Congress take action than their home?" said 17-year-old student Anna Sophie Tinneny, Politico reported.
The route for the march is down Pennsylvania Avenue in Washington DC and then past the Trump International Hotel.
By late morning Saturday, however, counter protests were also noted. In Salt Lake City, protesters carried pistols and signs reading "What can we do to stop mass shootings? SHOOT BACK."
In Boston, opposing groups of protesters exchanged heated remarks until police intervened, the New York Times reported. Protests by gun rights supporters are also expected to take place in Boston, Boise and Valparaiso.
Protesters are demanding common-sense gun laws, including requiring Congress ban the sale of assault weapons and high-capacity magazines and execute background checks for the sale of all guns.
On Friday, a $1.3 trillion government spending bill was signed by Trump to enhance records in the FBI's National Instant Criminal Background Check System and provide federal grants to enhance school safety. A new commission has also been spearheaded by the White House to improve school safety measures.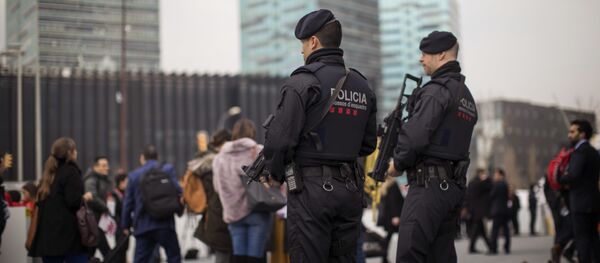 Last week, Trump tweeted about his administration's decision to ban bump stocks, a device that can be installed on semi-automatic weapons to convert them into fully-automatic military grade assault rifles.
"We applaud the many courageous young Americans exercising their First Amendment rights today," the White House said in a statement Saturday. "Keeping our children safe is a top priority of the President's, which is why [Trump] urged Congress to pass the Fix NICS and STOP School Violence Acts, and signed them into law."
Brandon Wolf, a survivor of a 2016 mass shooting at the Pulse nightclub in Orlando, Florida, told the Washington Post that he is attending the march this weekend to advocate for victims of the Pulse shooting.
"I don't think this conversation is just about schools," Wolf said. "It's about; the current generation is fed up with lawmakers who have done nothing on this issue, regardless of which community has been affected. Students, LGBT people, people of color. This issue is intersectional."
"It's so important to remember that while these teenagers are giving us hope and inspiring us and we want to rest everything we have on their shoulders, they're also kids who have been through something horrific. Something they will never forget," he said.