"For sure it is absolutely nonsense. Savchenko is entirely Ukrainian domestic issue," Peskov said in an interview with the MIR 24 broadcaster.
In 2016, a Russian court sentenced Savchenko to 22 years in jail for being an accomplice to the murder of two Russian journalists in Donbas. During her arrest, Savchenko held a hunger strike. Later that year, Russian President Vladimir Putin signed a decree to pardon her.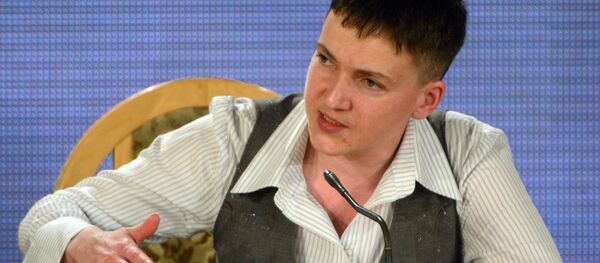 24 February 2017, 22:20 GMT
Savchenko's imprisonment in Russia was widely criticized by the European Union and the United States, with the West calling her release a "milestone" in resolving the Ukrainian conflict.
Following her return to Ukraine, some Ukrainian politicians and media alleged that Savchenko was recruited by Russian intelligence during her imprisonment in Russia.
READ MORE: #FreeNadezhda No More? WATCH Footage of Savchenko Calling for Ukraine Coup
On Friday, a court in Kiev ruled to sentence lawmaker Savchenko, who has been recently detained by authorities on suspicion of plotting a terrorist attack, to 59 days in custody.
The Kremlin spokesman noted, in this regard, it would be interesting whether the EU leaders, who are meeting in Brussels on Saturday, react somehow to Savchenko's arrest and call for her release.